To our dear friends, supporters, donors, volunteers, staff and passers-by: Here's our latest newsletter. We hope it finds you safe and well.
---
Sadly, a second wave of of COVID-19 cases is surging in the city. And we're mobilizing a wave of care and support in response.
Meals on Wheels and Home Support, both programs that help vulnerable seniors live independently, are busy and more essential than ever.
The Meeting Place drop-in has stayed open to homeless members throughout the pandemic, and it's especially important now that Stage 2 restrictions are back and people can no longer gather in coffee shops or use many public spaces.
Every week, the Meeting Place team goes out into the community, including to encampments where homeless people are living, to check on our most vulnerable and marginalized neighbours. Staff hand out harm-reduction supplies, help people find housing, and make sure our neighbours know they're not alone, even during this horribly isolating time.
Kids are back at school, which means our after-school program is back — and still lots of fun, even as everybody has had to adjust to new way of playing and working at a distance and with masks.
Our other programs are supporting people virtually and by phone, including many people in crisis. The employment and financial empowerment programs are helping people weather the biggest economic shock of this generation. Violence at home is a growing, terrifying problem in the time of COVID-19, and our team is responding by providing support, education, and housing help to the women and children most affected.
Getting through this together isn't just about surviving. We can still learn, grow and have fun together. Our adult learning groups are meeting by video chat, our seniors get together for virtual yoga every Tuesday, and our music school's intergenerational Zoom sing-a-long in September was a smashing success.
Here are some stories about what we're up to.
Celebrating screeners, the pandemic's hidden heroes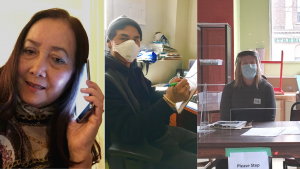 One positive thing to come out of this pandemic is the outpouring of appreciation for essential workers.
Working during COVID-19, whether it's from home or out on the front lines, can be hard and lonely. But it doesn't have to be thankless — because right now, we're saying a big thank you! Today, we want to put the spotlight on screeners.
Day after day, week after week, screeners ask the same list of questions to make sure the staff and participants in our in-person programs are feeling well and haven't been in contact with anyone who might have COVID-19. This is a key way to reduce the spread of the virus to the most vulnerable people in our community.
At Meals on Wheels alone, screeners make about 250 calls a week, starting early in the morning. For seniors who are missing their families, friends and usual social activities, getting a call from a screener is about more than just a quick quiz about whether you have a new or worsening cough. Screeners are a friendly voice in a lonely time, and they often make referrals to services people may need, says Angela, our Client and Family Services Coordinator.
"For some it is also a social check-in — they have become accustomed to our calls and are happy to hear from us, especially those who are more isolated," she says.
Thank you for NOT attending the Mask-Erade

Thanks to you, the Mask-Erade Ball was our most successful Non-Event fundraiser ever — and you didn't even show up! Every dollar you give helps us support our community during this difficult time for everyone. We couldn't do what we do without you.
Support the United Way and show your #LocalLove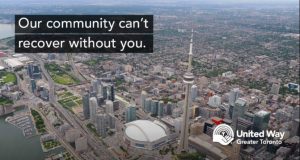 The United Way of Greater Toronto supports a network of 280 local agencies, including ours, to fight poverty, hunger, homelessness, and social isolation during COVID-19 and every day. Showing your #LocalLove by contributing to the annual United Way campaign is a great way to support West Neighbourhood House!
We are acknowledging our racism and working to do better
Here at West Neighbourhood House, we are undertaking a process of self-examination and transformation to make sure anti-racism is at the centre of our work. We have begun an organizational review that will examine how anti-Black racism is embedded in our policies, practices and behaviours at West Neighbourhood House and make recommendations for change. You can read more about it here.
Thank you & stay safe
Thanks, as always, for your continued support. You can always contact Genna Buck, the community relations coordinator, at gennabu@westnh.org, with feedback, questions or ideas. We love hearing from you!
And just one more thing: If you want to help us, the best thing to do is help bring this pandemic to an end. Keep up that physical distancing, wear a mask, check on your vulnerable neighbours, and encourage others to do the same. Stay safe and well until we can gather again.