In 1912, West Neighbourhood House, formerly known as St. Christopher House, opened its door in Kensington Market, becoming one of the first settlement houses in Canada.

Following the settlement house model, staff originally lived in residence, learning first hand about the problems their neighbours faced, and joining them in seeking solutions.
In the early years, workers and volunteers quickly realized that poverty, poor health and living conditions, illiteracy and discrimination were barriers to people achieving their full participation in their community. For those reasons, the initial projects of the House were aimed at removing these barriers, with a focus on providing a "hand up" rather than a "hand out". Over the years, these projects have evolved and turned into some of the House's most long-standing programs, including the Music School, Meals on Wheels, Adult Learning and more.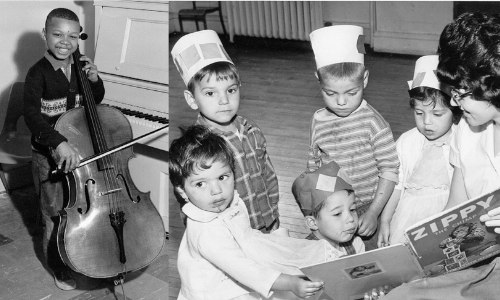 The organization was founded by the Presbyterian Church in Canada under the leadership of Sir James Woods. In the 1940s, the House became a participant in the United Community Fund and continues to be a member of the United Way, from which it receives a portion of its funding.
A Timeline of West Neighbourhood House
For over 100 years, West Neighbourhood House has worked in partnership with its community to find solutions to social problems, including homelessness, youth unemployment, isolation and more.
See below for a timeline of some important events and milestones for the House.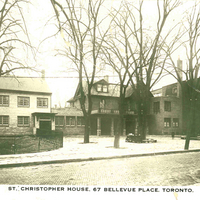 1912: St. Christopher House opens its doors as one of the first settlement houses in Canada.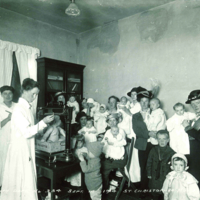 1913: The House sets up one of the city's first Well Baby Clinics, serving as a depot for pasteurized milk and baby formula made up at the Hospital for Sick Children. Every evening as many as thirty mothers came to the House for their daily milk supply.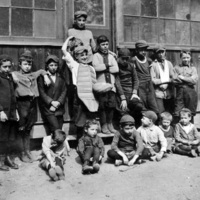 1915: The House begins working with the Toronto Playground Association, an organization that promoted the extramural use of school space, to hold classes, clubs, games and athletics at Ryerson School. This cooperation between schools and settlements marked the start of community use of public schools for social and recreational activities.
1918: At the height of the influenza epidemic in Toronto, regular programs at St. Christopher House were suspended for two months when all effort went into helping local residents. Volunteer nurses, medical students and members of clubs and local churches helped St. Christopher House in the operation of a medical and food supply depot and in the provision of service to over 350 neighbours in their own homes.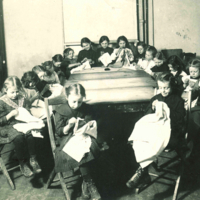 1920: Over 1,500 individuals and 871 families were program participants at St. Christopher House.
1921: Following an invitation by the Public Library, St. Christopher House opens a Children's Library branch at 67 Wales Ave. Children come in after school to read, look at picture books and listen to stories around the fireplace.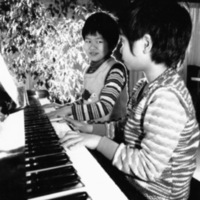 1930: The House introduces a formal music instruction program, open to everyone regardless of skill, age, class or ethnicity.
1940s: During World War II, the adult clubs of the House concentrates on the war effort by organizing fundraising events and sending money to their members overseas, while the older youth sponsored dances for servicemen.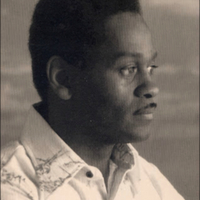 1950s: The House increases its focus on children with special needs and youth. As part of its youth work strategy, the House hires a young, African-American social worker named Conrad 'Connie' Carrington (pictured) as director of young adult programs. Under Connie's direction, the House basketball program ranked high within citywide leagues.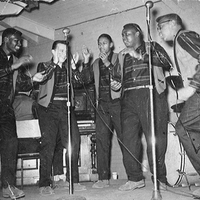 1955: Connie Carrington and Rupert Hodge, the House's basketball coach, found the Metro Toronto Jazz Society. The following year the two of them begin an innovative music program at the House, providing an interracial space for young jazz musicians to practice their craft in front of a crowd of fellow musicians and fans of the genre.
1963: St. Christopher House is incorporated as an independent organization.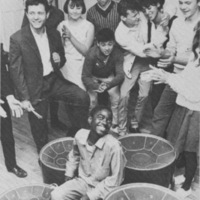 1963: The House hires Steel Drum musician Joe Brown to work with Black youth. He creates the St. Christopher House Steel Drum Band (known to its members as Joe Brown Juniors). By 1965, the band performs outside the House two or three times a month, including at the closing luncheon of the 1965 United Appeal Campaign before 1200 people at the Royal York Hotel.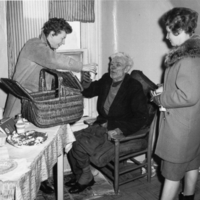 1965: After local citizens Dr. and Mrs. K. Martin approach the House with their concerns for the aged and homebound, the Board establishes a Meals on Wheels committee with representatives of social agencies, the Public Health Department and the Social Planning Council. The Laidlaw Foundation agreed to fund a three-year pilot project. Within three years of its introduction of the House, there were nine voluntary agencies opening similar services.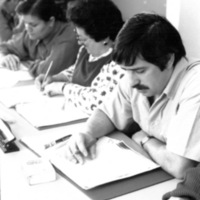 1971: St. Christopher House starts the Free Interpreter Service. By 1974, it is handling 700 to 900 requests for assistance a month.
1974: The Portuguese West of Bathurst Project is formed to provide services to Portuguese-speaking immigrants, including community workshops and English language classes. In 1977, a Literacy Working Group is formed out of this project to address the need for ESL classes in the community. Volunteer tutors are trained to work with groups of illiterate adults, who by 1983 produce their own newsletter, "Writers Ink."
Mid 1970s: Cleaners Action, a resource for immigrant women (mostly Portuguese and Spanish-speaking) who worked as downtown office cleaners, is created, offering workshops on safety standards, employment practices, workers' rights and educational programs, as well as providing a forum for the sharing of common problems and solutions. Out of this program, a Women's Support Group is created to offer Portuguese women experiencing marital difficulties to explore such issues as childcare, marital separation, health questions and legal concerns. Today, this is known as the Women's Empowerment Program.
1980: St. Christopher House inaugurates its Home Help Program. In conjunction with Meals on Wheels, this program provides support to elderly and disabled persons unable to manage their own housekeeping tasks but who otherwise do not require institutional care.
1981: 15 teenagers graduate from the first Teen Life Skill Program, where they learn about education, sexuality, and family relationships and jobs.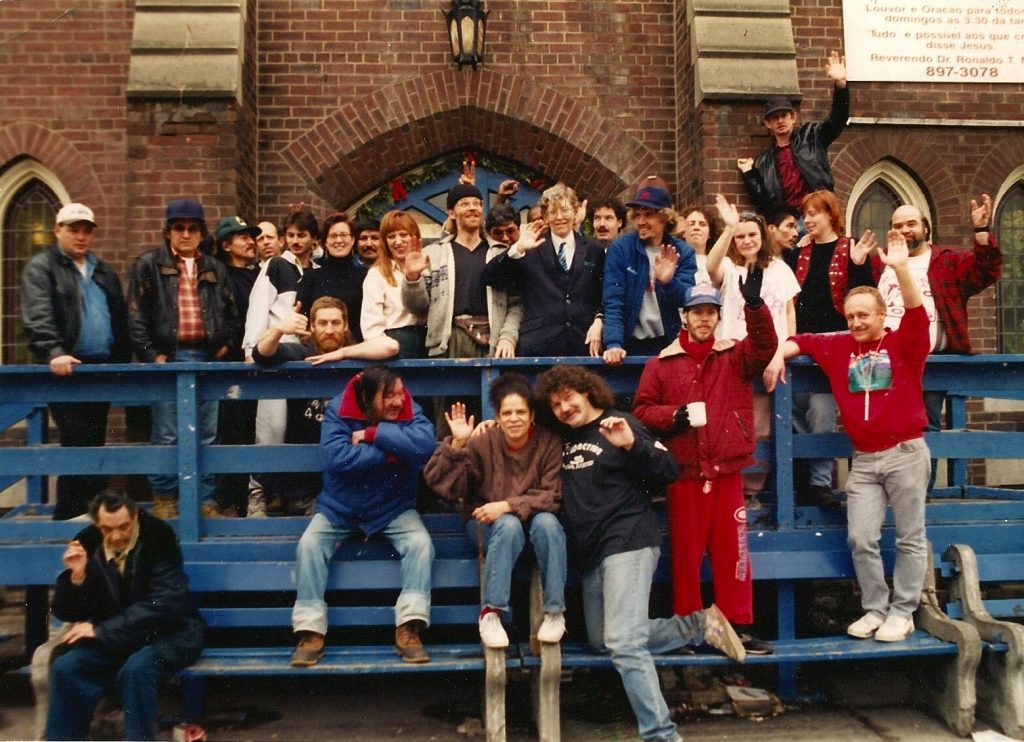 1986: St. Christopher House opens the Meeting Place Adult Drop-in at 761 Queen St. West. The following year, the program expands to five afternoons a week with social and recreational activities, special evening events and crisis information for more than 700 adults.
2000: St. Christopher House merges with Parkdale Focus, bringing new initiatives including the New Hope Drop-In for adults, which provided support for newcomer families with young children navigate various services such as daycare, school and community health centres.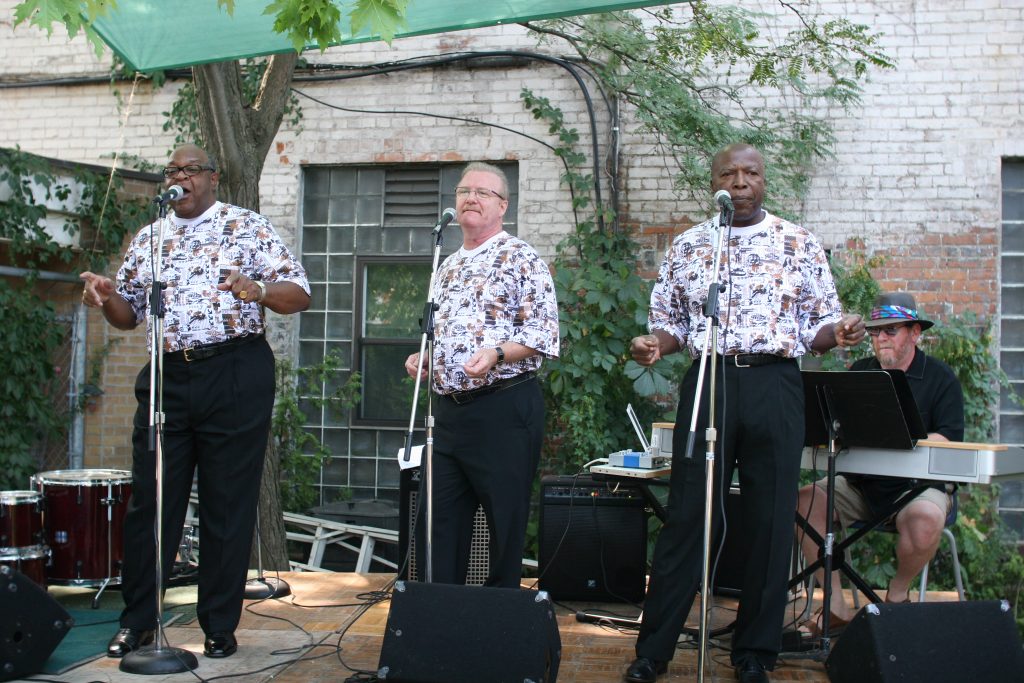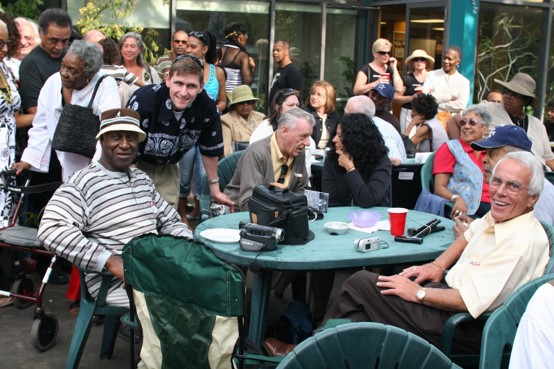 2001: Longstanding staff member Robert (Bob) Ellis and the House Alumni begins hosting a live jazz concert in the House's courtyard at 248 Ossington Avenue. The event honours the legacy of Connie Carrington, an African-American social worker who served as the House's director of young adult programs starting in 1950, as well as raises funds for a range of programs. Every year, a lively crowd of jazz lovers and friends of the House gather on an August afternoon to enjoy performances by such artists as Salome Bey, Jackie Richardson, Molly Johnson and Shakura S'Aida.
2008: The House supports the production of the Many Rivers To Cross Concert at North York Memorial Hall, with artists such as Jackie Richardson highlighting the contributions of Black Canadians.
2014: St. Christopher House is renamed as West Neighbourhood House in an effort to represent a more accurate image of its involvement in its surrounding community.
2020: During the COVID-19 pandemic, West Neighbourhood House transitioned many of its programs online, while maintaining its essential operations such as Meals on Wheels, Home Supports and the Meeting Place with extra precautions and personal protective equipment in place.
2023: Our organization held its first in-person Annual General Assembly at the Stan Meek Community Hall, since the beginning of the pandemic. In June, we celebrated our 111th anniversary of the first official day we were open back in 1912.