Hello dear friends,
Spring has sprung in our neighbourhood! Along with the good weather, comes more in-person activities at West Neighbourhood House and outside in the open air. The House is now open six days a week for in-person programs with different programs/activities each day! Lots of activities are continuing online too because so many people find it convenient.
In the spirit of spring and new beginnings, we welcome new program participants, volunteers, and staff to the West Neighbourhood House community! Read below to learn about what's been happening at the House.
A huge thank you to our fabulous volunteers!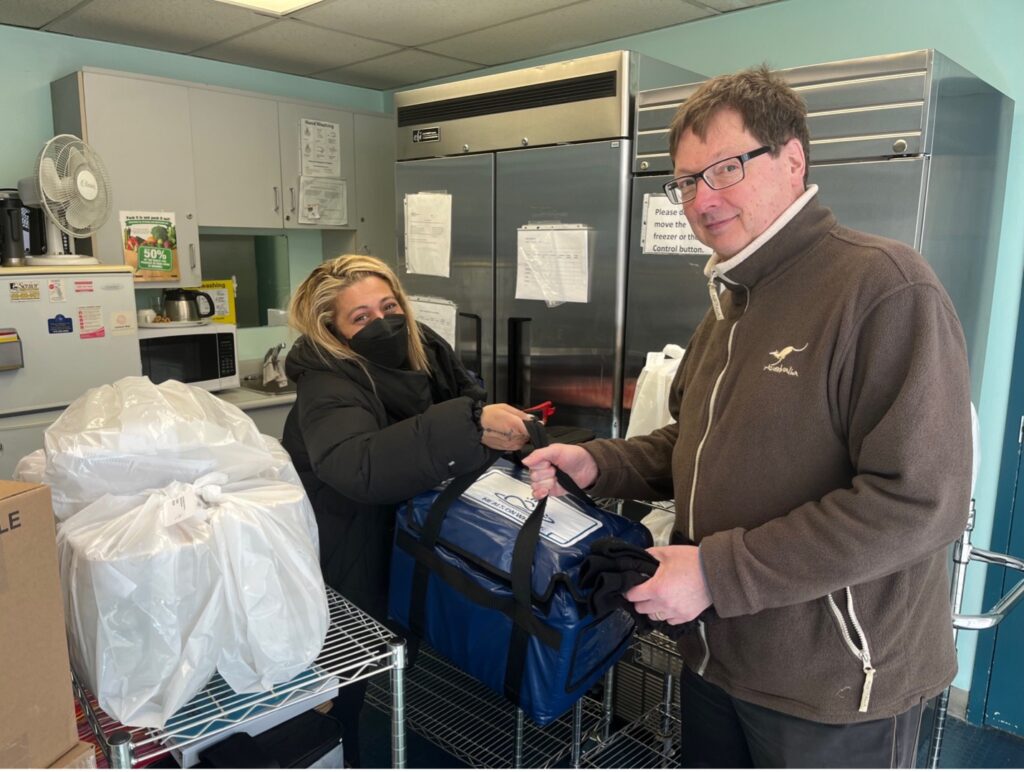 April is a a special time around the House – it's Volunteer Appreciation month! West Neighbourhood House would not exist without volunteers – from the people who first started the House in 1912, to today's volunteer Board of Directors, to the many volunteers in so many of the House's programs and projects. Dear volunteers, thank you for your dedication and the many amazing things you do!
Meet two of our fabulous volunteers who supported their neighbours over the course of the pandemic.
Lynbeth Fields has been volunteering with West NH since January 2020 making Security Check phone calls. Security Checks are daily check-in calls to see whether people are safe and to monitor their wellbeing.  The calls are made to people in our neighbourhood who are 55+ year older or who are living with a disability.
She calls four participants daily, Monday to Friday. When asked how she manages to take on this responsibility that requires a high level of consistency, she simply let us know that "It's just a part of my day."
As many of our participants live alone, these calls are vital. When Lynbeth is not able to reach a participant, she always follows up with them as well as the team to ensure they are safe. "The most difficult part of the job is the uncertainty when people don't answer the calls. I find myself worrying about people if they don't answer," she says.
Throughout the trying times of the pandemic, Lynbeth's dedication was unchanged. Her trustworthiness ensured participants she called were safe and taken care of.
If you are interested in making security calls like Lynbeth, please see our posting on the volunteer page.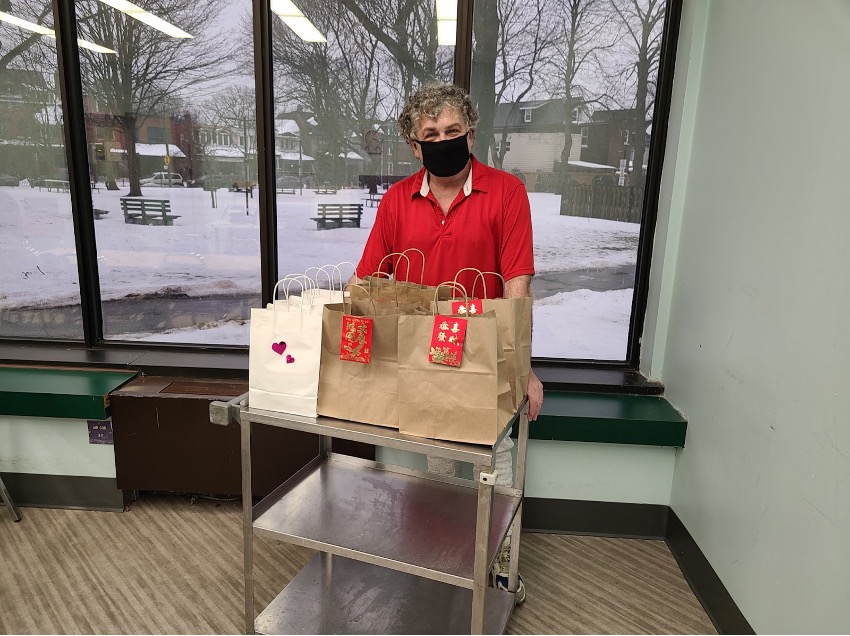 Jim is a resident at 20 West Lodge who is passionate about community building. He understands that relationships and networking make a big difference to wellbeing. Knowing this, Jim shaped a unique role for himself at West NH and became a bridge builder between his neighbours and the House. When he gets a request for help and consent from his neighbours, Jim contacts West NH staff, who then support and refer his neighbours as needed.
Volunteers like Lynbeth and Jim make our community stronger. Thank you!
If you are interested in volunteering at West Neighbourhood House, please see our volunteer page for postings. West Neighbourhood House is looking for drivers, cyclists and runners for the Meals on Wheels program.
Thank you for donating to our Annual Appeal!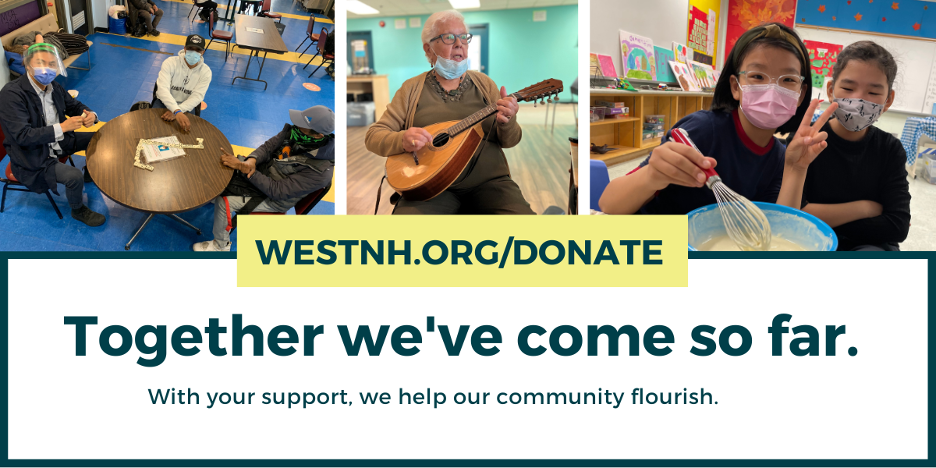 Thank you to our long-time and new supporters, neighbours, program participants, businesses, and staff whose generosity supports the local community to flourish. Together, you exceeded our goal and raised $63,471.33 for the House.
By donating to the annual appeal, you support neighbours to pursue dreams and contend with today's economic reality. You make it possible for the House to continue addressing social issues like housing affordability, financial illiteracy, social exclusion, and mental health.
Together, we help people thrive and deal with hard times!
If you would like to learn more about the House or have a tour of our sites, don't hesitate to contact Rui Martins, Community Relations Coordinator at ruima@westnh.org.
We so appreciate your on-going support!
Celebrating Canadian Black Excellence at the House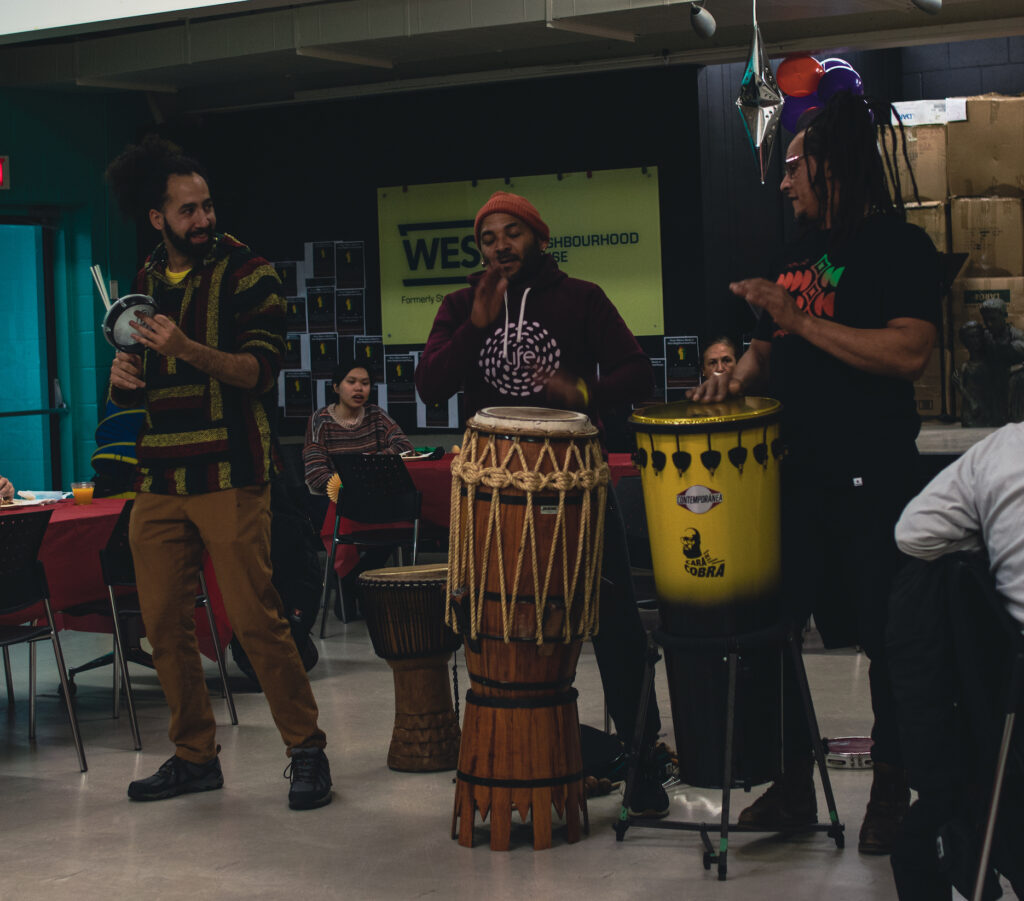 Black History Month in February was a time of celebration and learning across West Neighbourhood House.  We honoured some of the incredible contributions Black Canadians have made and continue to make to society, culture, and the House.
There were several program activities and discussions with participants throughout the month. Our Associate Executive Director Zaria Duncan hosted a well-attended series "Teas with Zaria" at each of our locations in which staff discussed and reflected on anti-Black racism.
The month culminated with the "Celebrating the Legacy of Black Canadian Excellence" event which brought together community members, volunteers, partners, and staff for live performances, food and discussion. The event highlighted Black stories, voices and culture.
The evening started with performances spotlighting Afro-Brazilian cultural contributions to Canada broadly, but especially at our 248 Ossington Avenue location in the heart of "Little Portugal." Performers shared two cultural practices which are part of the legacy of the Trans-Atlantic slave trade with roots in Africa: Samba music and a Capoeira martial arts/dance demonstration.
Chiyi Tam, Executive Director of the Kensington Market Community Land Trust, inspired us with the story of William Peyton Hubbard, who was one of the first Black politicians elected to office in Canada in 1894, first as an Alderman (now City Councillor). Hubbard was elected to city council 15 times and was Acting Mayor on multiple occasions.
Hubbard advocated for local businesses in Kensington Market, where our organization first opened its doors as St. Christopher House in 1912. He also opposed all forms of discrimination, including the taxes on laundries which affected the local Chinese community.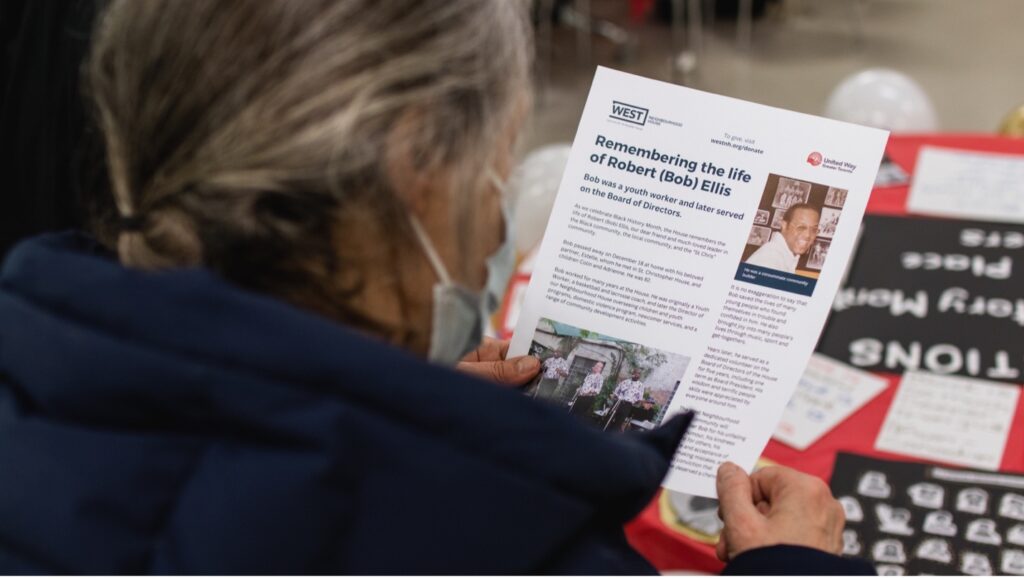 The event highlighted the achievements of local leaders Dr. Afua Cooper, Dr. George Elliott Clarke, and Lillian Allen. There were several exhibits created by various programs on Black Canadian history and history makers as well. We also recognized our former staff and Board member Robert Ellis, who passed away last December. Read more about his life here.
West Neighbourhood House is dedicated to addressing the many ways anti-Black racism can manifest – not only in February, but all year around. Join us in celebrating the accomplishments of Black Canadians and in our commitment to amplify these stories as part of all our history.
Long-time staff member Rick Eagan passes away
Staff and the Board of Directors of West Neighbourhood House are sad to share the news of the death of Rick Eagan, our beloved long-serving Community Development Coordinator. Rick passed away after an illness in March. For those who knew him, Rick was passionate about social justice and serving the community. His compassion, humour and kindness will be missed by everyone who knew him. Read his obituary.
Stay in Touch!
There's one more great — and totally free! — way you can help strengthen our community: Forward this email to someone you know who might be interested in the work of the House. Anyone can sign up to receive our emails by visiting westnh.org/newsletter!
To get involved, please visit our volunteer opportunities page on our website or contact the Volunteer Developer at volunteers@westnh.org. A special thank you to all the volunteers for lending a hand.