Never miss a newsletter! Visit westnh.org/newsletter to sign up for our emails. 
Dear Neighbours,
We'd certainly hoped that by this time, we would be tentatively sharing our first news of reopening post-pandemic. Instead, we're in the most difficult phase yet. We are looking ahead to the coming weeks and months with uncertainty and worry, but also determination and commitment to work with our community to create positive change.
There are glimmers of hope all around us. Every day at The Meeting Place drop-in, staff spend hours looking online and making phone calls to find vaccine appointments for members. This is essential, as devastating outbreaks of COVID-19 continue to ravage the shelter system in our city.
As you can see in the image above, about 200 residents of the 20 West Lodge and Springhurst buildings — vulnerable, low-income seniors — have now been vaccinated, thanks to our collaboration with partners at University Health Network. Hope springs again!
Every week, we hear from people asking what they can do to help their community through this time. Yes, we need your support in the form of donations — more on that below. But even more than that, we need you to keep doing what you're doing to keep COVID-19 at bay: Limit your close contacts only to people in your household, stay home as much as you can, keep wearing a mask (ideally two!) in public places, and keep washing your hands.
And please: Consider getting vaccinated as soon as you are eligible, with the first vaccine you are offered. And then, if you can, help someone else who might have a hard time booking their shot.
Thank you, as always, for your support. Now, onto the news!
How Anabela uses her talents to teach isolated seniors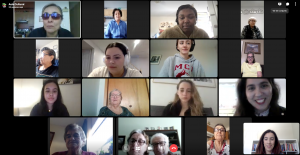 Despite the isolation, the pandemic has fostered surprising opportunities for learning, new connections, and fruitful relationships across generations. West Neighbourhood House volunteer Anabela Rato is one amazing example.
In the fall of 2020, Anabela, an Assistant Professor and Associate Chair of Portuguese Studies, reached out about a volunteer position helping to provide technology support for seniors engaging with our online programming. She knew about the House's strong Portuguese community, and as a native Portuguese speaker, she thought she could be of help. Little did she know, she would end up leading a weekly online workshop for Portuguese speaking older adults — an experience she says has taught her more than she could have expected.
You can read Anabela's full story here!
Our new homework program helps overburdened parents handle online education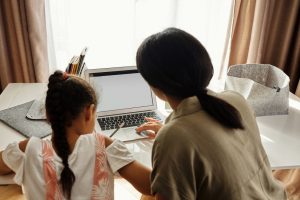 Getting homework done can be a battle at the best of times, but doing online homework after a long day of online school can feel like too much for many kids and parents. That's why we've launched our virtual homework help program. It's free and runs each day from 3-6 p.m. by appointment over Zoom. Our program workers can help kids understand assignments, work with them on reading, math and science skills, and help them navigate the online education tools they've all had to become experts at using over the past year.
The program is open to anyone, but aims to support parents who may face barriers to helping with homework, such as language challenges, lack of familiarity with technology, or long work hours. Find out more at westnh.org/homework!
How we're taking the terror out of tax time for gig workers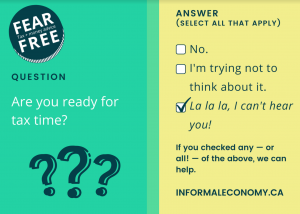 Low-income people who don't have a traditional job or paycheque often feel a lot of understandable fear at tax time. This issue has only gotten more widespread with the rise of gig work, such as ride-sharing apps and meal delivery, and massive job losses because of the pandemic. After years of research and development supported by the Metcalf Foundation, we have launched the next phase of our Informal Economy project.
This project reaches out to gig and informal economy workers to let them know about our high-quality, no-judgment tax and money help. It's available to low-income people who might face barriers to filing their taxes — but who could stand to gain a great deal in the form of refunds, deductions and credits.
The pandemic has revealed inequities.
We need your help to address them.
As you have read throughout this newsletter, here at West Neighbourhood House we work with people to create change in their lives and communities. Many of the people we serve face multiple, overlapping inequities such as housing inequity, gender inequity, racial discrimination, language barriers, low literacy, and many other challenges. The pandemic has laid bare the serious inequities in our society. Read more about this, and how you can help, at westnh.org/covidgift.
Once again, here's hoping for better times ahead
Thanks, as always, for all your hard work, sacrifice and care you have shown during this pandemic. We want to send light to all our supporters, but especially do those of you who have been touched directly or lost loved ones to COVID-19. There's nothing we can say to ease your pain, but we stand with you in grief and in frustration at the continued toll the pandemic is taking. Stay safe and well, and we hope you're able to keep smiling.