In the fall of 2020, Anabela Rato, an Assistant Professor and Associate Chair of Portuguese Studies, reached out about a volunteer position helping to provide technology support for seniors engaging with our online programming. She knew about the House's strong Portuguese community, and as a native Portuguese speaker, she thought she could be of help.
Little did she know then she would end up leading a weekly online workshop for Portuguese speaking older adults, an experience she says has taught her more than she could have expected.
"Most of the seniors in the group have been in Canada for over 20 years, but they still have very strong connections with their homeland of Portugal, and a lot to say about their childhood memories, their families, food, traditions, music," Anabela shared. "We started brainstorming some ideas that focused on their oral traditions, their life experiences, their knowledge and memories, so they could connect with their Portuguese identities and share experiences with each other during this isolating time."
The weekly sessions feature anywhere from 12 to 18 older adults, most of whom attend each week. At the end of each session, the group decides on a topic to discuss for the next week so they can prepare. Over the last seven months, topics have included proverbs and idioms, musical tunes, legends and jokes.
"All of the participants have this amazing knowledge they've acquired through their lives," Anabela says. "I don't see myself as an instructor or teacher in these sessions. I'm just there to promote discussions and help to retrieve their memories. They really build on each other — once they start sharing their memories and stories, they trigger more and more."
For Anabela, who typically teaches Portuguese linguistics lessons to young adults, working with seniors has been a new challenge, particularly in keeping the sessions engaging without being too complicated.
"At the beginning, there were times when I created quizzes that were a bit too complex, so I tried to find some other ways to challenge the participants without overwhelming them," she explained. "One week we learned how to do some sign language in Portuguese, which was a really good exercise for all of us."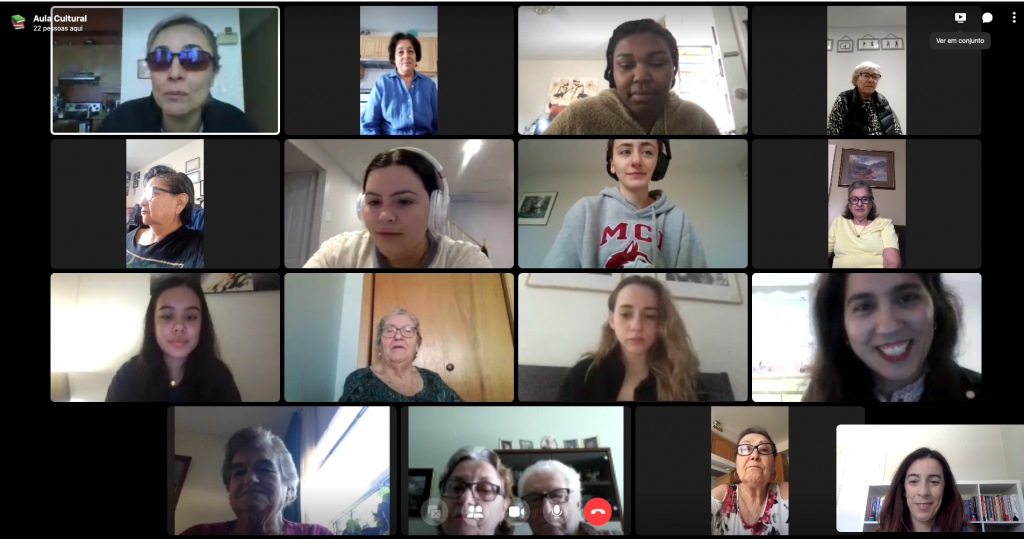 "We also had a session with students of the undergraduate program of Portuguese studies from the University of Toronto, where the seniors taught them some idioms of the language. It was so amazing to see them sharing their knowledge with students of the language — really inspiring."
Of course, not being able to meet in person has created its own set of challenges, but Anabela says the group has really risen to the occasion.
"There have been some limitations, with internet issues or background noise, but overall I've been so impressed with how they've been able to connect online," Anabela says. "I really admire the fact that they are willing to learn new things. Some of the ladies in the group even use the video filters — it's so much fun, so incredible to see."
"I would rather meet in person, of course — there's nothing like face-to-face interactions," Anabela added. "But it's so important, especially right now, to keep having these meetings, these connections, to be a part of this community."
As for Anabela, she says she learns just as much — if not more — from the seniors as they learn from her.
"The popular cultural knowledge they have, the oral traditions of storytelling, legends, myths, traditional songs, has been so wonderful to learn," Anabela says. "They have shared incredible legends of their own villages, most of which I've never heard because they're so local. Even the songs that they sing, I know a few of them but their repertoire is so much larger than mine. They even recall songs they would sing when they were children."
"I look forward to seeing them every week. I feel like they are almost family," she shared, adding that they often remind her of her own grandmother, who lives in Tomar, Portugal. "They have given me a chance to connect in a greater way to my grandmother, and to my own homeland."
To learn more about volunteer opportunities at West Neighbourhood House, please click here.