Not signed up for our newsletter yet?
To our dear friends, supporters, donors, volunteers, staff and passers-by,
Twenty-twenty has really been … something, hasn't it? The newsletter we sent this time last year tells the tale of what feels like a bygone era. The photos show seniors smiling in front of their handmade crafts at the holiday bazaar, and people crowded in front of a Christmas tree after a turkey dinner at The Meeting Place drop-in, arms around each other.
Like many of you, we had to put off some of our most cherished holiday traditions — some, but not all! Dozens of people came to the annual Music School carol sing. This time dogs, cats and babies all attended, thanks to the magic of video chat.
So in this newsletter, we're sharing good news only. We have so much to be thankful for. Vaccines are on the horizon (hooray!). We are hopeful for better times ahead. In the meantime, please enjoy this bit of holiday cheer. Here's to a fresh New Year!
A gentle reminder – the Annual Appeal is on now!

Here at West Neighbourhood House, we've been working hard every day since March to help get the most vulnerable people in our community through the COVID-19 crisis. This is the time of year when we — humbly and gratefully — ask for your support to help us continue this vital work. Click the button below to read our annual appeal letter and give your gift. We're currently about 70 per cent of the way to our goal.
How the Newcomer Youth Leadership Program helped Ángel find his passions

Through the Newcomer Youth Leadership program, Grade 12 student Miguel Ángel has found a community, improved his English, and discovered a passion for design he hopes to turn into a career.
When Ángel first immigrated to Canada from Mexico a couple of years ago, he didn't like talking to people because he was shy and not yet confident using English. Through a presentation from West Neighbourhood House at his school, he found our Newcomer Youth Leadership Program, which offers after-school recreational, skill-building and volunteering opportunities for youth 13-24 in Parkdale and now online.
"I discovered that it wasn't that hard to talk to people and express myself," he says.
One of the program's most popular activities is screen printing, which Ángel loved and discovered he had a knack for. He started designing T-shirts and fabric art, and even got the chance to start teaching the skill to participants in our seniors' programs.
"The good thing about the training is that I can explore my creativity and try new techniques," Ángel said. The program leaders encouraged him to create a logo for his design work and print it on some T-shirts. "It's like my personal brand," he says.
Now he's planning to study fashion design at university and dreams of one day designing sneakers and custom clothes.
Since the program went virtual for the pandemic, Ángel has applied what he has learned as a budding educator to a new activity on Zoom. He helps lead the Newcomer Youth Spanish classes, teaching other youth about his language, culture and traditions and hearing about theirs in return.
We're building up better futures for new workers in the trades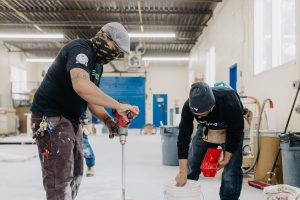 We're so excited to be sharing our new project with you! We're partnering with Building Up, an organization that provides training and support to help people with a history of challenges like incarceration, addiction, and homelessness to land apprenticeships and eventually high-paying jobs in the trades.
Thanks to a $200,000 grant, we will be evaluating this new model for delivering top-quality financial advice to people who need it at a key moment of transition in their lives.
Building Up is paying to embed a financial coach from West Neighbourhood House in their program to help their apprenticeship graduates develop the skills they need to earn more, progress to higher salaries, earn seniority in their unions, and succeed financially in the long-term. Consistent, personal support from a financial coach will help offset some of the financial volatility that often derails new workers in the trades.
We're developing a data platform to measure the impact of our program on workers' financial stability and quality of life. Claire, our financial coach, is already celebrating the small successes she has seen with her clients from Building Up — many of whom are now earning a reliable living wage for the very first time. She works with them to set realistic goals and create a budget that is tied to their real spending as reflected in their bank account. This develops solid financial management skills that will serve them for years to come.
"They're already developing confidence in their skills around money that they didn't have before," Claire says. "It's so amazing to see them smile and realize, 'Hey, I can do this!'"
In case you missed it: Our Annual Report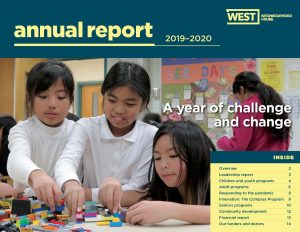 What's inside: Read about a new approach to health care for seniors that makes sure no one gets left behind, how we turned on a dime to launch our pandemic response, why our volunteer program is working to train and deploy the next generation of change-makers, and much more.
Thanks for being a friend this year! Here's hoping for better times ahead.
Thanks for all the ways, big and small, that you have shown love and care to your neighbours and the House this year. We really are all in this together. Supporters like you make us hopeful for what's on the horizon in 2021. We hope you are having a safe and restful holiday season with your nearest and dearest.
One of the best (and totally free!) gifts you can give us is to send this newsletter to someone who might be interested in the work of the House. Anyone who would like to stay in touch with us can sign up to receive these emails at westnh.org/newsletter.