Summer is here and our gardens are thriving !
Welcome to summer with Greenest City – our gardens are in full swing and gardeners are active with planting new seedlings and growing food in Parkdale! Our summer edition has a lot of updates and opportunities, take your time to read!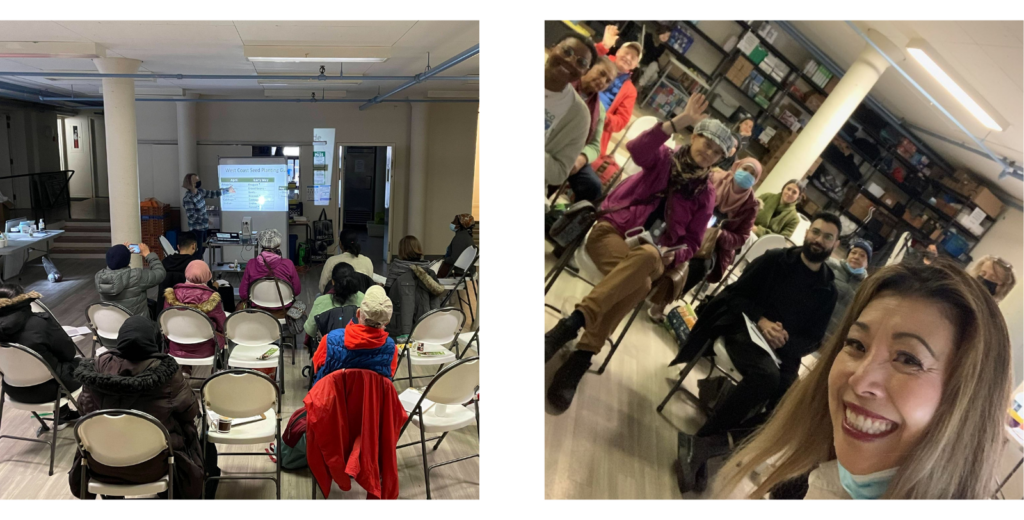 We began our growing season with a gardening workshop by Bonnie Storr gardener Rosh Burkhardt. Gardeners began to plan out their growing season and learned about companion planting and ways to maximize the produce their can grow on their plots. Here's the presentation from the workshop — a great resource for new gardeners!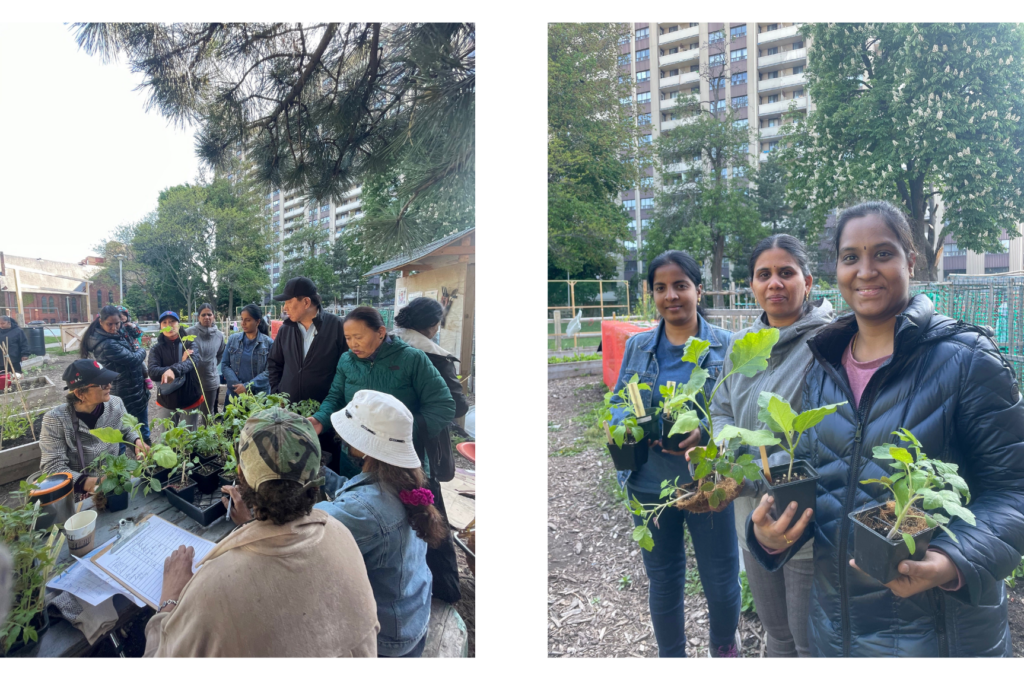 Seedlings that we have grown and donated seedlings are being distributed to all the gardens we support. Our Greenest City Kids program is at full capacity and bringing kids together bi-weekly to teach them about growing at our gardeners. Gardeners are experimenting with new seedlings and re-activating our composting program, led by support from Mark and Tenzin sharing their knowledge.We hope you can join us for our community programming this summer, including our weekly Parkdale Good Food Markets on Wednesdays beginning July 5. If you are a youth interested in working with us, check out our job postings below! Lots of opportunities to get engaged with us — reach out to us if you want to volunteer this summer with us!
Updates from Hope Garden Steering Committee
Dear HOPE Garden enthusiasts,
We are delighted to share some exciting updates from our community garden! Over the past few months, our dedicated HOPE Garden Steering Committee has been hard at work, enhancing the garden's landscape design and introducing new features to enrich our gardening experience.
Firstly, we have created a herb garden to create a more organized and accessible space which brings gardeners together beyond their assigned garden plots. Our committee members created a space with a variety of herbs, ensuring a delightful mix of flavours and scents for all your culinary adventures. We encourage you to explore the garden and embrace the opportunity to add some extra zest to your recipes.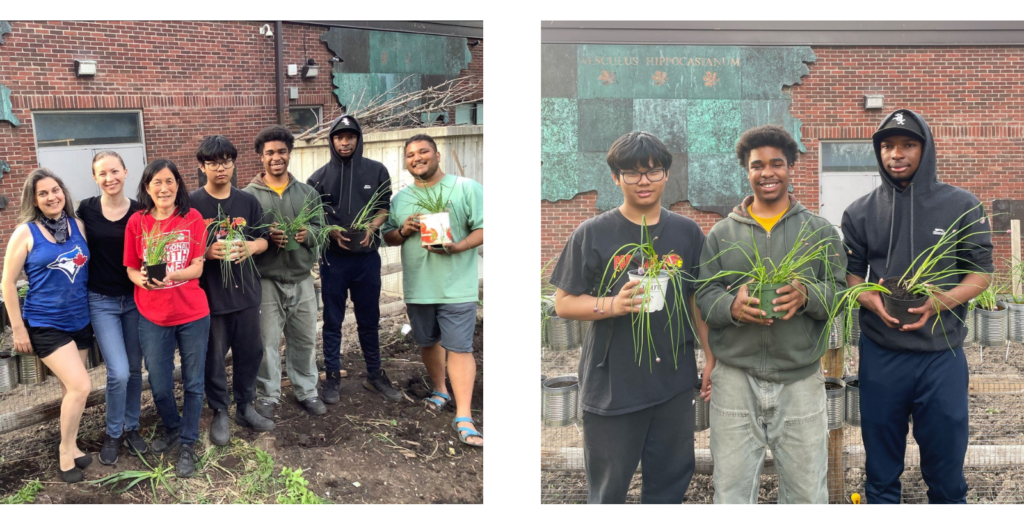 In our continuous effort to support local pollinators and promote biodiversity, we have incorporated a diverse range of pollinator plants in the garden. These beautiful additions will not only add vibrant colours to our space but also attract bees, butterflies, and other essential pollinators. We hope that this initiative will foster a thriving ecosystem and contribute to the overall sustainability of our garden.
Additionally, we have rearranged garden plots to make room for a dedicated children's garden this year, with better accessibility for young gardeners through the rear garden gate. We believe it is crucial to engage younger members of our community in the wonders of gardening and nature. The children's garden will foster a love for gardening from an early age and we are eager to see what's growing.
While we continue to develop and improve our community garden, we understand that some of our beloved gardeners will be leaving at the end of this growing season. We want to assure you that their contributions have not gone unnoticed, and we sincerely appreciate the time, effort, and care they have invested in HOPE garden. We are working hard to provide new gardening opportunities for these gardeners, stay tuned.
As we bid farewell to some garden members, we eagerly welcome new and patient gardeners to our community. We extend a warm invitation to all newcomers, inviting them to embrace the joys of gardening, connect with fellow enthusiasts, and create lasting memories within our thriving community. Our seasoned gardeners are here to offer guidance and support, ensuring a smooth transition and an inclusive environment for everyone.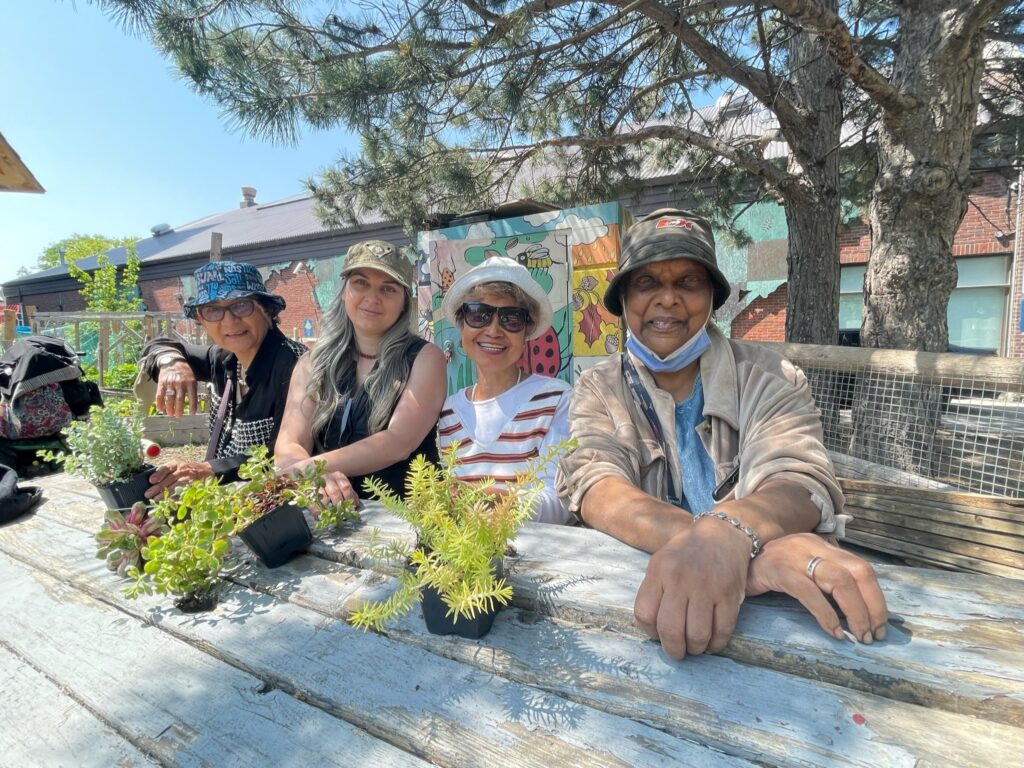 On behalf of the HOPE Garden Steering Committee, we want to express our gratitude for the gardeners dedication and commitment to our community garden. Together, we are cultivating a space of growth, beauty, and harmony. We look forward to witnessing the garden bloom with enthusiasm and sharing in the bountiful harvests that await us all.
Happy gardening!
The HOPE Garden Steering Committee (Dilbar, Ela, Aida, Zorida)
Volunteer at 248 Ossington Garden on Tuesday, June 6!
West NH is organizing a volunteer gardening afternoon on Tuesday, June 6th from 1pm – 5pm at 248 Ossington. Angela ElzingaCheng will be doing a small teaching on land and land stewardship, as one of our practices in Righting Relations with the land.
Please RSVP at angelael@westnh.org to confirm your participation.
Gloves, tools, and snacks (watermelon and freezies) will be provided.
Work with Greenest City this summer – two positions available!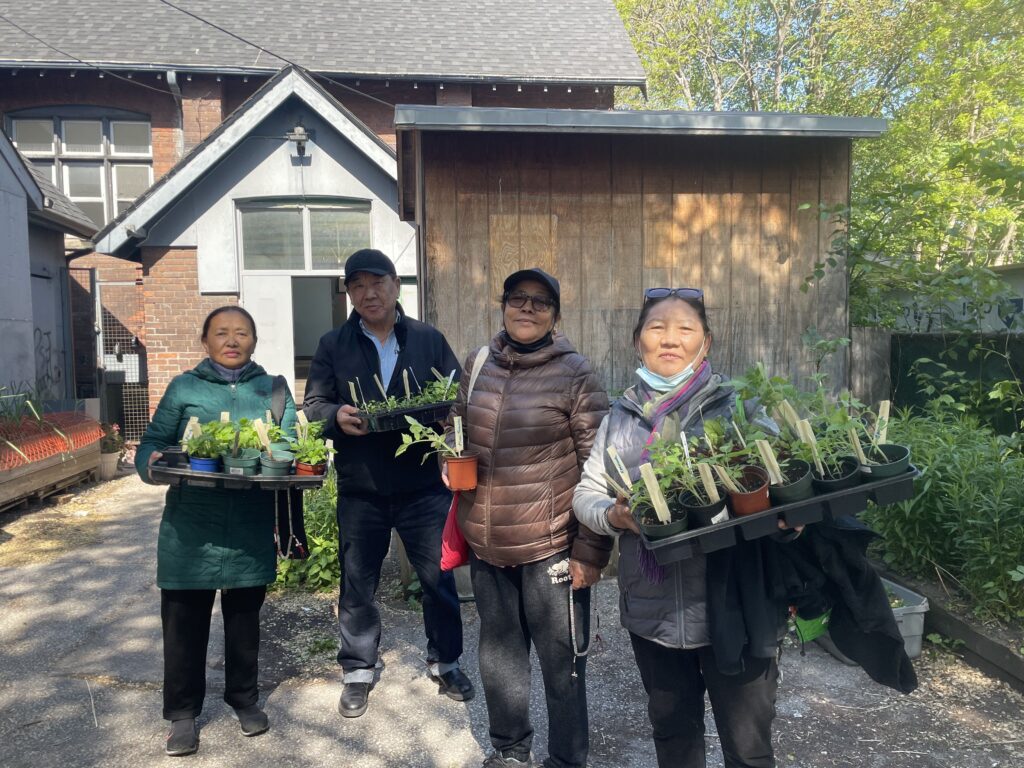 Two upcoming opportunities to support our gardens and programming are : 
Deadline to apply is June 13, 2023
Our Parkdale Good Food Market is back every Wednesday beginning July 5!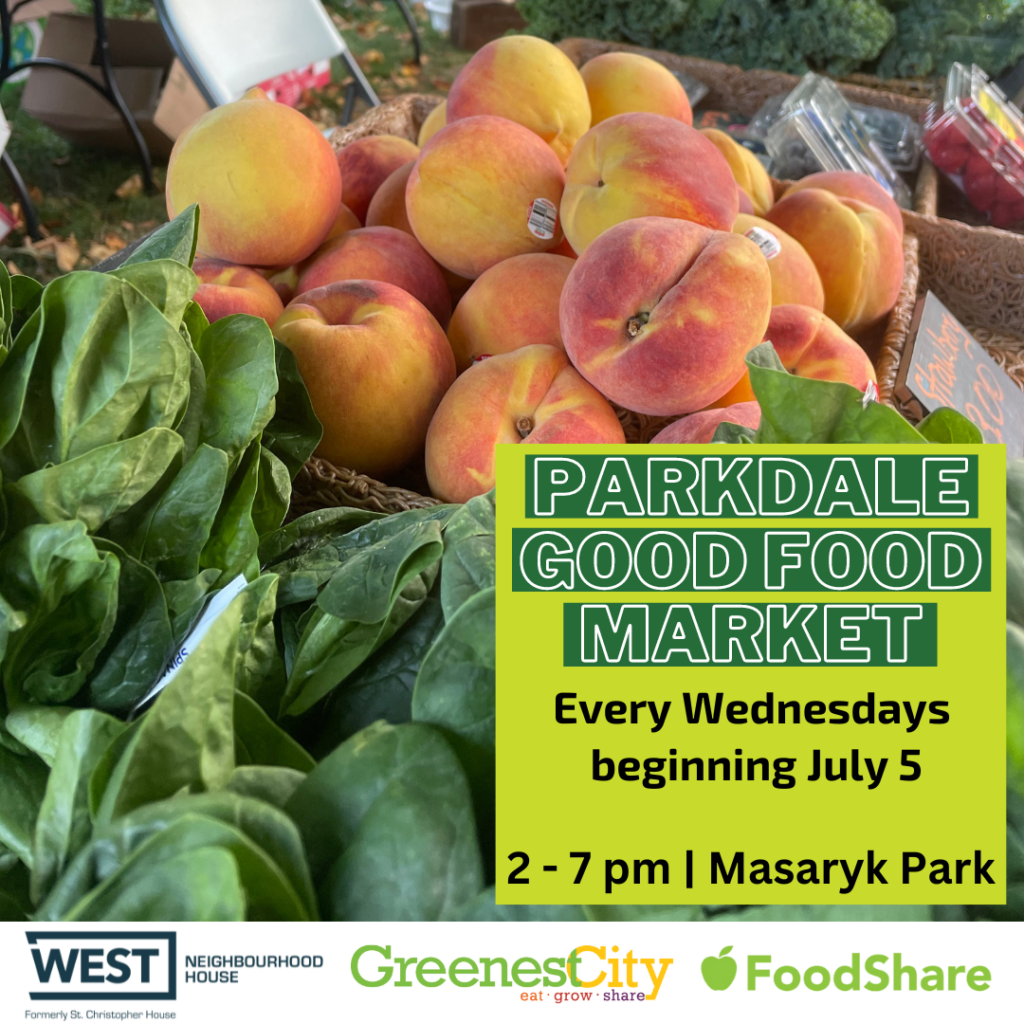 Support local and buy fresh, affordable vegetables and fruits from us! Our Parkdale Good Food Market is back every week on Wednesdays beginning July 5 at Masaryk Park (Cowan & Queen) from 4-7:30 pm!
The market will also feature community organizations sharing opportunities to connect with the Parkdale neighbourhood. Every week, there will be programming including kids activities, storytelling, family-friendly fun, music and much more.
Sign up to volunteer at our weekly Good Food markets!
To volunteer for our food market, email us at market@westnh.org and we will get in touch about our orientation session! We are looking for support weekly during our markets on Wednesdays with set-up, food distribution, programming, and clean up!
Welcome to University of Toronto Placement Student Ayanna! 
We are excited to announce that this summer we have Ayanna Sharma joining us. She is a placement student from the University of Toronto who is currently in her 4th year studying Environmental Science, Health & Disease and Sustainability.  She will be supporting us from May until the end of August. Welcome to our team Ayanna!
Growing the Future : Greenest City Kids' Gardening Program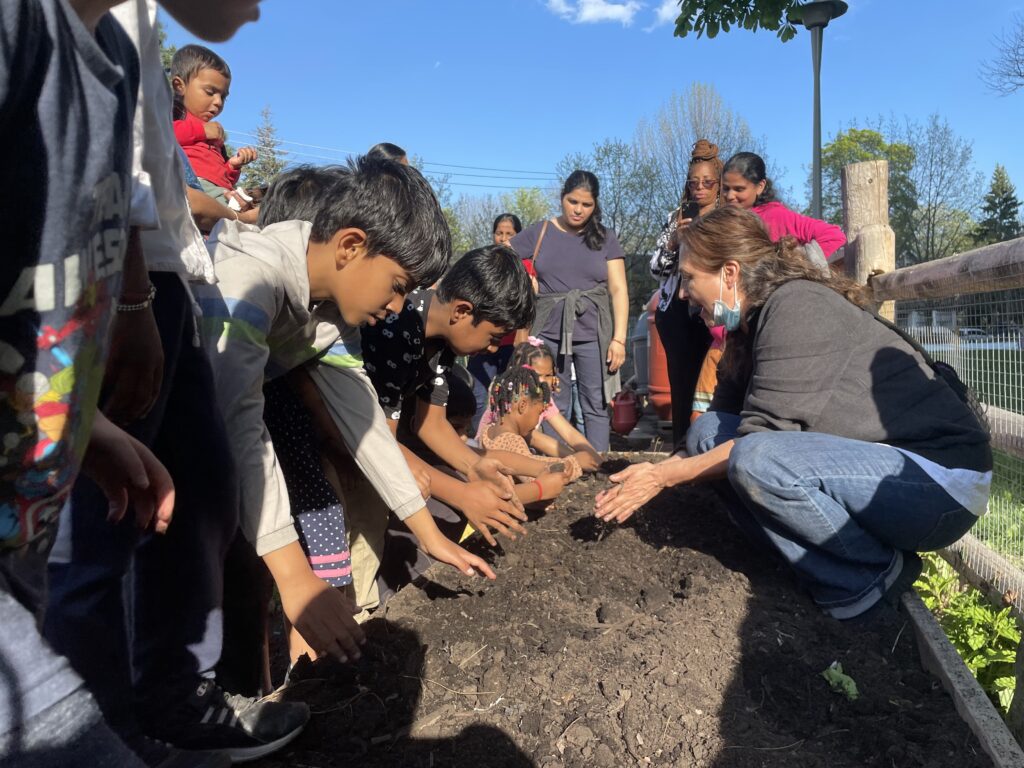 At Greenest City, working with children is one of our priorities. This year, our kids' gardening program welcomed 32 young participants, aged 5 to 12, from the Parkdale area. We are grateful for the opportunity to utilize our communal gardens to educate kids and youth about the importance of growing food, cultural diversity, and social justice.
We have completed two engaging workshops at two different gardens. The first workshop, held at Hope Garden, focused on sensory and craft activities, introducing kids to the concept of Mother Earth while celebrating Mother's Day. The second workshop, hosted at Milky Way Garden, featured a knowledgeable Tibetan elder, Sonam Yanzom, who taught gardening techniques to the children, ensuring a fun and educational experience.
A special thanks goes to our program co-leaders, Adi Yemane and Jennifer Choo Chee, who have played a crucial role in planning and developing our kids' program. Their dedication, expertise, and energy have been instrumental in its success. We would also like to express our gratitude to the volunteers, community members, parents and Roots and Culture Club who have supported us on this exciting journey with the children.
Upcoming Workshops: we have additional workshops scheduled, each designed to deepen the children's understanding and exploration of the natural world while learning about edible gardens, the right to food, nutritious food preparation, eco arts, and the importance of pollinators. Seeds, insects, flowers, sun, soil, water, and bees are our greatest allies in cultivating the earth this summer.
June 8: Square Foot Garden Workshop at Hope Garden.
June 22 and June 29: two-part cooking workshops with Foodshareat Milky Way Garden focusing on the right to food, providing children with valuable culinary skills.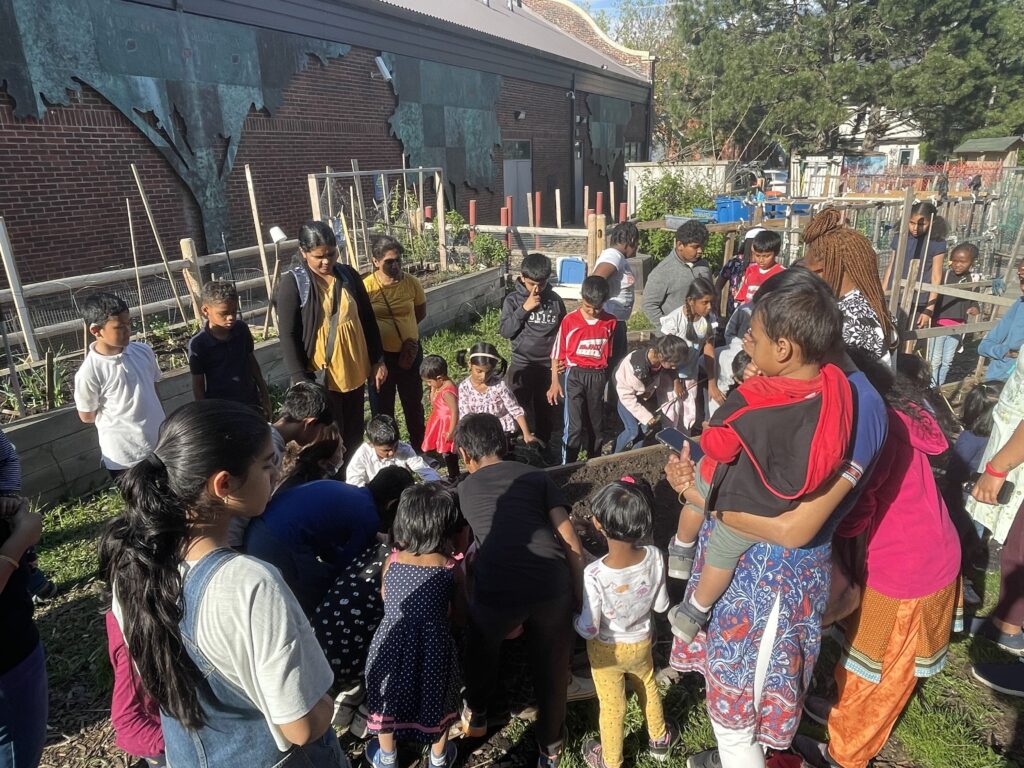 The Greenest City Kids' Program continues to foster a sense of environmental stewardship and sustainability among children, equipping them with the knowledge and skills to positively impact their communities. Through engaging in workshops and partnerships, we aim to inspire a generation of young individuals who understand the importance of growing their food and the broader social and cultural connections associated with it. Together, we are nurturing a greener and brighter future.
Please notice that registration for this program is closed. Upcoming workshops are for the kids that have already signed up.
If you have any questions please contact us at Greenestcitykidsgarden@gmail.com or call (647) 438-0038
Follow Greenest City kids garden Facebook and Instagram for the latest updates and check out our hashtag: #greenestcitykidsgarden
Milky Way Garden bringing our residents together!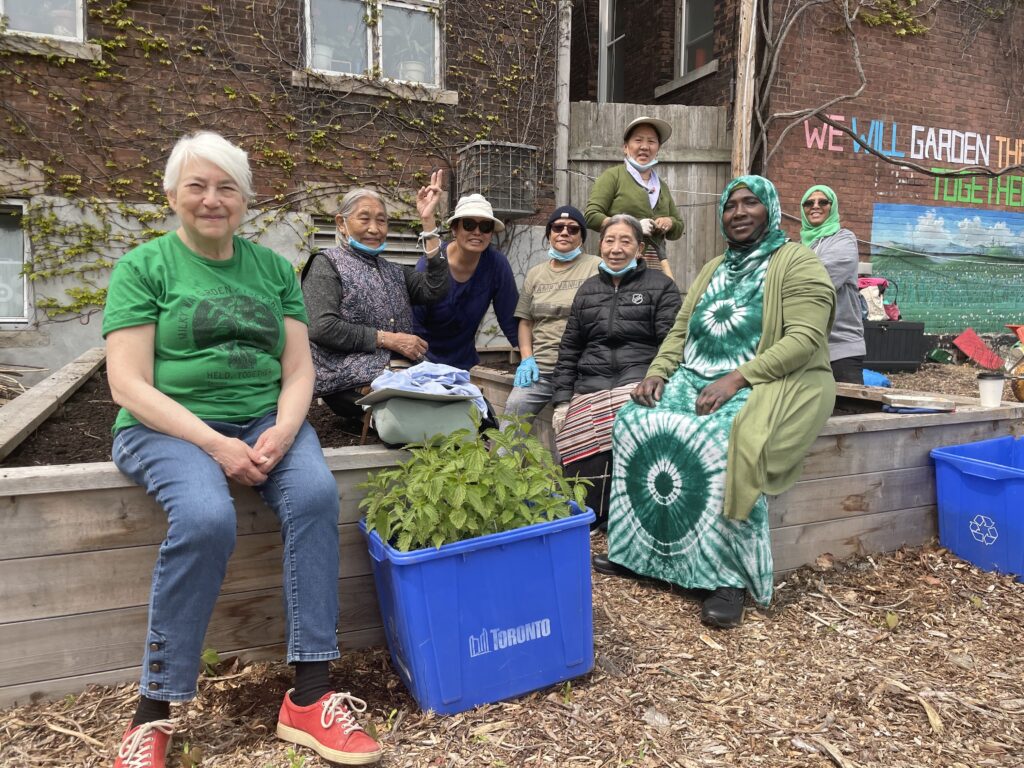 Educator Tish shared a reflection on the opening last month, "It was wonderful to be in Milky Way Garden for the first day of our 17th growing season. Community members who are former ESL learners are very excited, as am I, to work together in a communal space and grow our food, especially as produce prices soar. Gardening is an affordable option and being with friends is fun and healing. We're so looking forward to this weekly activity that will last into early October. Gardening and community is truly inspiring."
Milky Way garden is looking forward to growing food together and sharing communally with our residents.
Parkdale Free School "Community Still Life at Milky Way Garden"
We're happy to share that Community Still Life returns to the Milky Way Garden for a second season. Folks from the neighbourhood and beyond are invited to join in for an hour of drawing and connecting with others in these monthly outdoor still life sessions. Offered by the Parkdale Free School and led by artist Sarah Aranha, Community Still Life is free, offers basic drawing materials for participants to try out, and is open to all skill levels.
Community Still Life takes place monthly, on the following dates :
Thursday June 29th, 6:30-8pm
Thursday July 27th, 6:30-8pm
Thursday Aug 31st, 6:30-8pm
Thursday Sep 21st, 6:30-8pm
For more information and to sign up, check out the Parkdale Free School on Eventbrite.
Join us for a seed starting workshop at the Bentway on June 24!
Greenest City has been invited to be part of Bentway summer activities.
They'd love to amplify Greenest City's expertise in urban agriculture,  community engagement, intersections of the arts, hands-on learning, urbanism, and community building as part of a series of summer programming,Eco-art workshops
Seeds Starting with Greenest City will be a workshop built on the multi-species food perspective and will be an interactive seed-starting workshop to plant and care for local greenery. Learn about gardening as a political action based on stewardship and the importance of building relationships with the Land and our more than human neighbours.
Date: June 24 from 1:00-4:00 p.m.
Location: 55 Fort York Blvd.
Register for the Seed Starting workshop with Greenest City here 
Watch Chasing Coral film with Patagonia on June 8!
Our funding partner Patagonia invites you to a screening of Chasing Coral, a film involving a team of divers, photographers, and scientists setting out on a thrilling ocean adventure to reveal the underwater mystery to the world.
When: Thursday, June 8, 2023
Where: Patagonia Toronto, 500 King Street West
Time: 7 PM – 10 PM
RSVP here
Support West Neighbourhood House this year!
By giving to West Neighbourhood House this year, you will support neighbours to pursue dreams and contend with today's economic reality. You will also make it possible for the House to continue addressing social issues like housing affordability, social exclusion, and mental health.
Together, we can help people thrive and deal with hard times!
Show your support by visiting westnh.org/donate.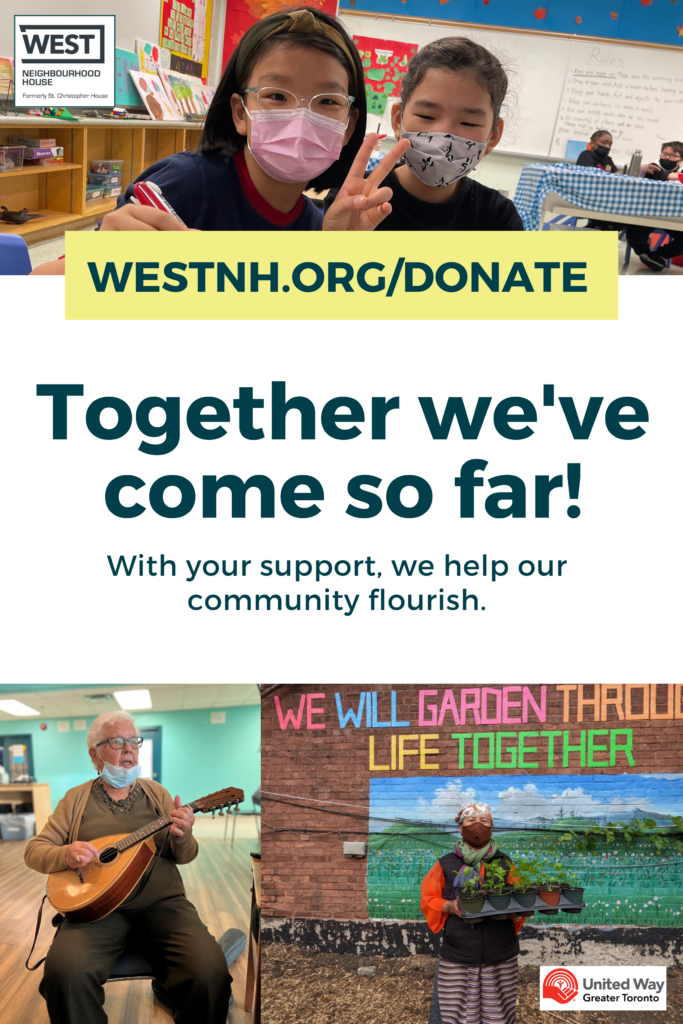 Stay updated with our activities and programs on our social media including our Facebook page and Instagram! To volunteer and connect with us reach us at admin@greenestcity.ca.
Visit West Neighbourhood House for job opportunities here.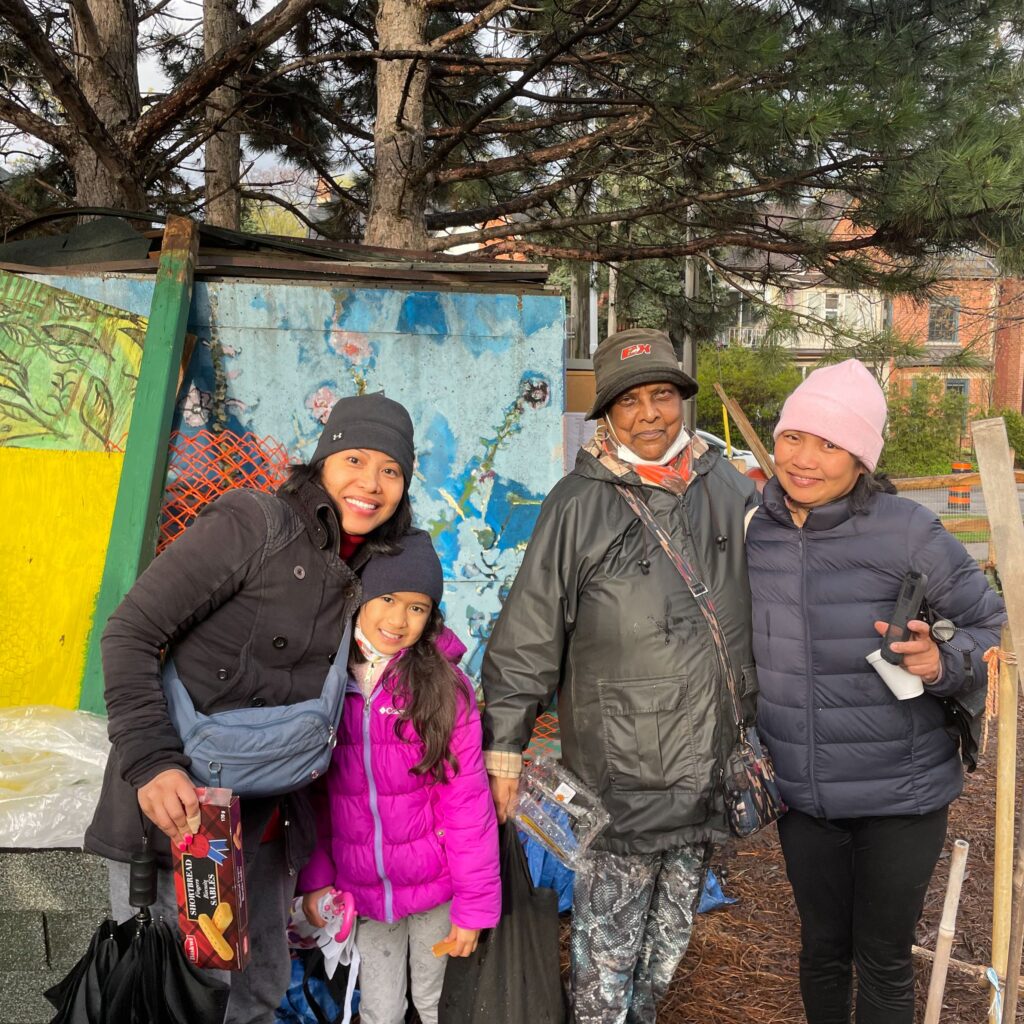 Greenest City is a program of West Neighbourhood House. Read more at greenestcity.ca.