Dear friends and neighbours,
Since our organization's foundation in Toronto's Kensington Market neighbourhood in 1912, the House has been a place for those less advantaged to receive the support they need to gain greater control of their lives and reach their full potential.
Naturally, with much time gone by, the needs of the community have changed, and with it, so has our capacity to respond to the challenges. We believe that societal change must also come with organizational change, which involves learning from our successes and failures, and moving towards better models of service.
The rising cost of living, including housing affordability, has pushed more and more people into increasing precarity. The House has renewed or modified our program offerings to meet the different needs in our community.
This has meant adjusting resources so the House can reach more people, bring community members together, and build greater resiliency and strength in the community.
Programs like the Meeting Place drop-in have added program components that promote skills-building that will help participants reach their goals.
We also embrace societal change through our advocacy and community engagement with participants, including members of our Indigenous community. Our organization honoured National Day for Truth and Reconciliation with different events across the House.
Read below to learn more about what's been happening at the House.
---
The Meeting Place drop-in addresses inequities by promoting skills-development for greater community integration.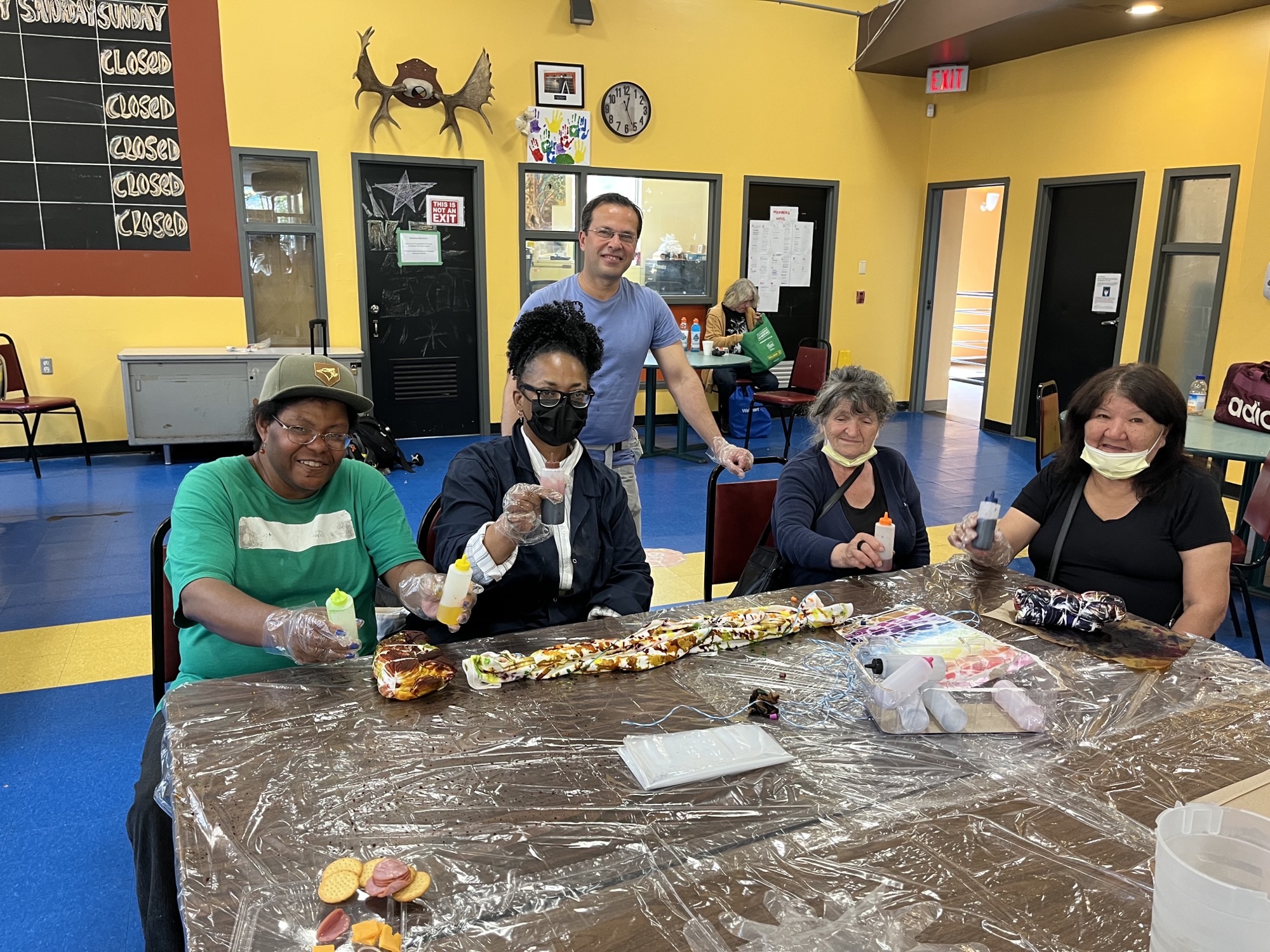 Over the last year, the Meeting Place has introduced new programs, altered some existing ones, and moved towards a model that focuses more on skills-oriented training and practical knowledge to improve outcomes for its members.
The program changes are the result of the House's pre-pandemic learnings and research in collaboration with InWithForward, a social innovation research and program design group committed to "enabling people from the margins to flourish".
The Meeting Place, located at 588 Queen Street West, provides supports to people who are homelessness or who are marginally housed.
Peter has been coming to the Meeting Place for years. He is fortunate enough to be housed, and he comes to the drop-in to access supports he needs, including attending the Harm Reduction group. The Harm Reduction group teaches practices that minimize the impacts related to health conditions, addiction and mental health, abuse and other challenges.
"There aren't enough places like this. I know more about harm reduction than before, and it's really helped me in my life. I've also learned a lot from other members too. Everyone is contributing in their own way."
"People look at things the wrong way sometimes. It's what you have inside is what matters."
The Meeting Place also introduced the 'More Than Words' group which engages members in difficult conversations about life's challenges and encourages them to identify and express their emotions in a healthy way.
Long-standing groups such as the Women's Empowerment Group, and the Brave Spaces have integrated more skills-based solutions and practical knowledge into programming. Staff have also worked to integrate diversity, equity and inclusion into their group discussions with members.
Peter also volunteers at the Meeting Place to give back. He credits the staff for making him feel welcomed.
"Where would I be without their help? I hope they go home every day and think about what they do for the members."
"This is really a community."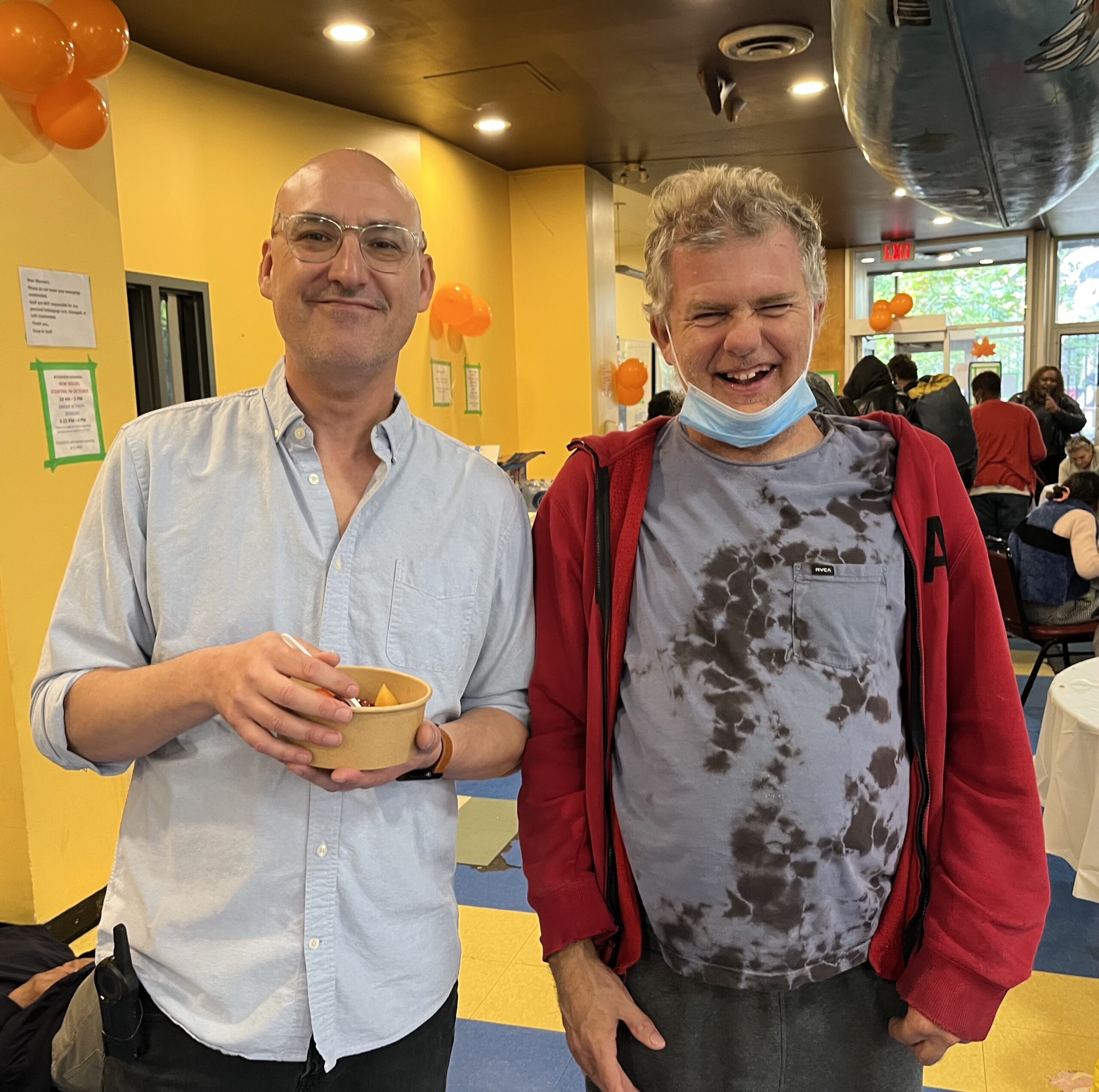 The Meeting Place also introduced new activities like silk-screening and tie-dye, knitting and crocheting, that not only encourage members to be creative, but also provide the opportunity to build skills for potential employment and generate income. Some members have earned additional income by selling their designs.
The Meeting Place's new self-care and hygiene clinic includes foot care to prevent and treat serious infections for those who are living rough.
The Healthy Cooking group has been enhanced to put a greater emphasize on providing advice on how to eat healthy and make the most of food from food banks.
Selina Delimini, Manager of Community Programs at West Neighbourhood House says: "There has been a shift from only supporting people where they are at, towards one that promotes learning and accomplishing."
Not only is it more forward-thinking, but it's a reaction to the new challenges that arose or were made worse by the pandemic. The Meeting Place is giving members practical tools they need to reach their personal goals and move towards community integration.
---
Help neighbours rebuild their lives by donating to the House.
Fall is here. For some in our community, this means that the most difficult time of the year is fast approaching.  For individuals who are homeless or relying on the shelter system, getting relief from the cold weather is becoming a matter of survival.
Toronto's Central Intake Centre at 129 Peter Street has been overwhelmed by the number of refugees looking for support, which has generated a lot of attention in the news.
After seeing our own numbers soar, the Meeting Place drop-in stepped up to help. Open five days a week, the drop-in provides person-centered programs to support our members in achieving their goals and make desired changes in their lives.
The Meeting Place also continues to be a community space for members to access necessities including showers and laundry facilities, computers and internet, telephones, hot meals and social connections. Read more about the Meeting Place on our website.
If you would like to support the work we do, please consider donating today.
---
The House commemorates National Day for Truth and Reconciliation by raising awareness of the lasting impact of residential schools.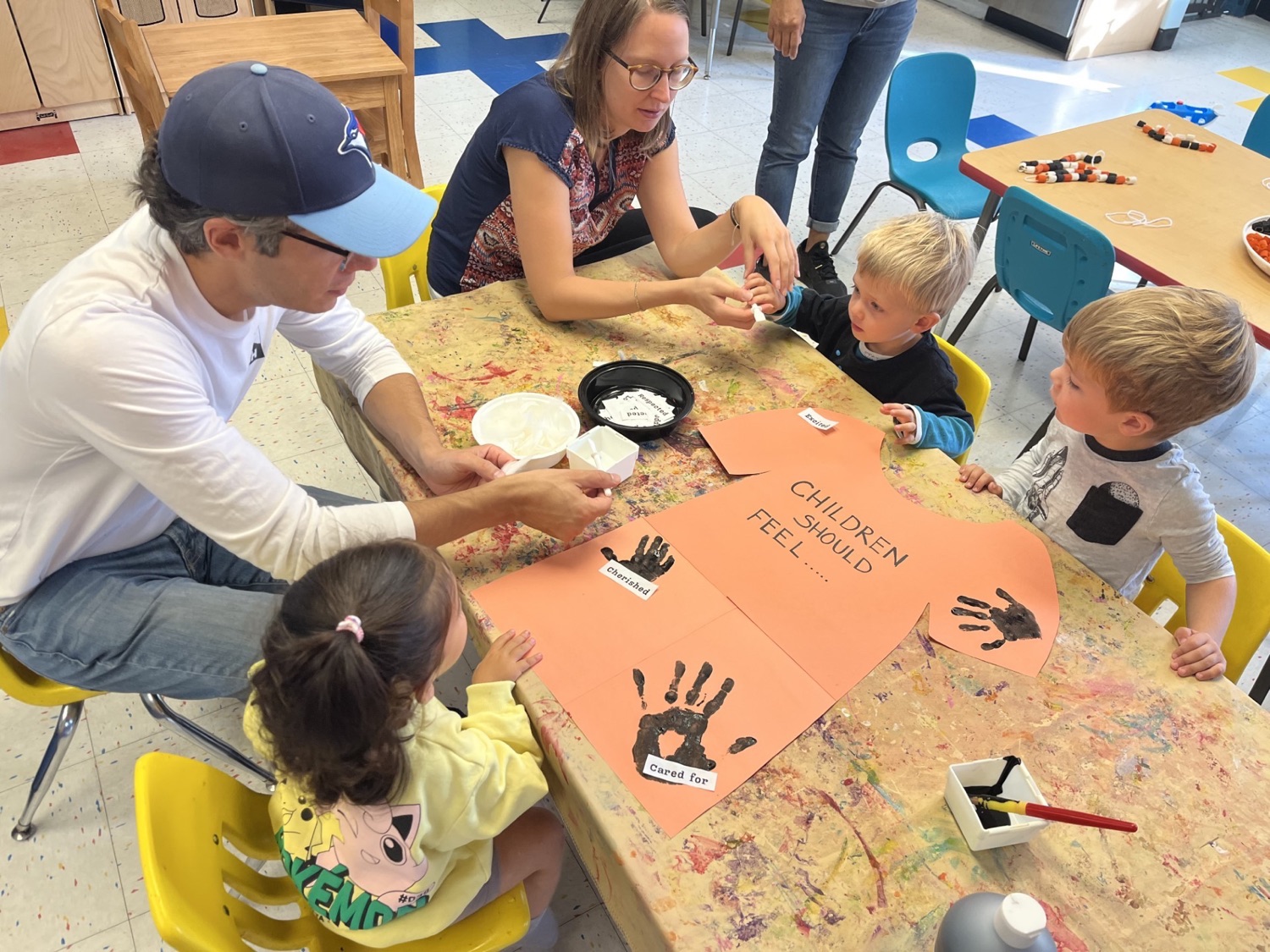 On September 30th, Canadians commemorated the National Day for Truth and Reconciliation. The House held several events to help educate staff, volunteers, program participants and the wider community, about the tragic history of residential schools in Canada, and the inter-generational trauma that continues to impact the lives of Indigenous peoples.
The EarlyON program, which provides free programming for children from 0 to 6 years old, created an orange t-shirt cutout where children were encouraged to discuss emotions, they felt were important to children, and glued the words onto the orange shirt, along with their handprints and white feathers.
During Circle Time, children were read the story 'Stolen Words' written by Melanie Florence, which explores several themes such as the destruction of language and culture and the intergenerational impact of residential schools.
The Newcomer Youth Program welcomed Star Nahwegahbo, an Indigenous interdisciplinary artist, grassroots community organizer, art facilitator and former social services worker, for a learning exercise.
Staff and participants took part in a 'planting your seeds' activity which involved drawing flowers that represented one another and writing down care instructions for how we can grow as people. Nahwegahbo also led a discussion about truth and reconciliation and what that meant to those in attendance, as well as other issues impacting Indigenous communities.
There was also a staff event that was held in our 248 Ossington Avenue courtyard. Staff completed exercises from the book 'A Treaty Guide for Torontonians,' written by Ange Loft, Victoria Freeman, Martha Stiegman, and Jill Carter, which encourages readers to engage with one another and reflect on their relationship with Indigenous people and the land.
Food for the event was provided by locally based Dashmaawaan Bemaadzinjin (They Feed the People), an Indigenous-led catering company. Their proceeds support Indigenous seniors, families, and vulnerable community members.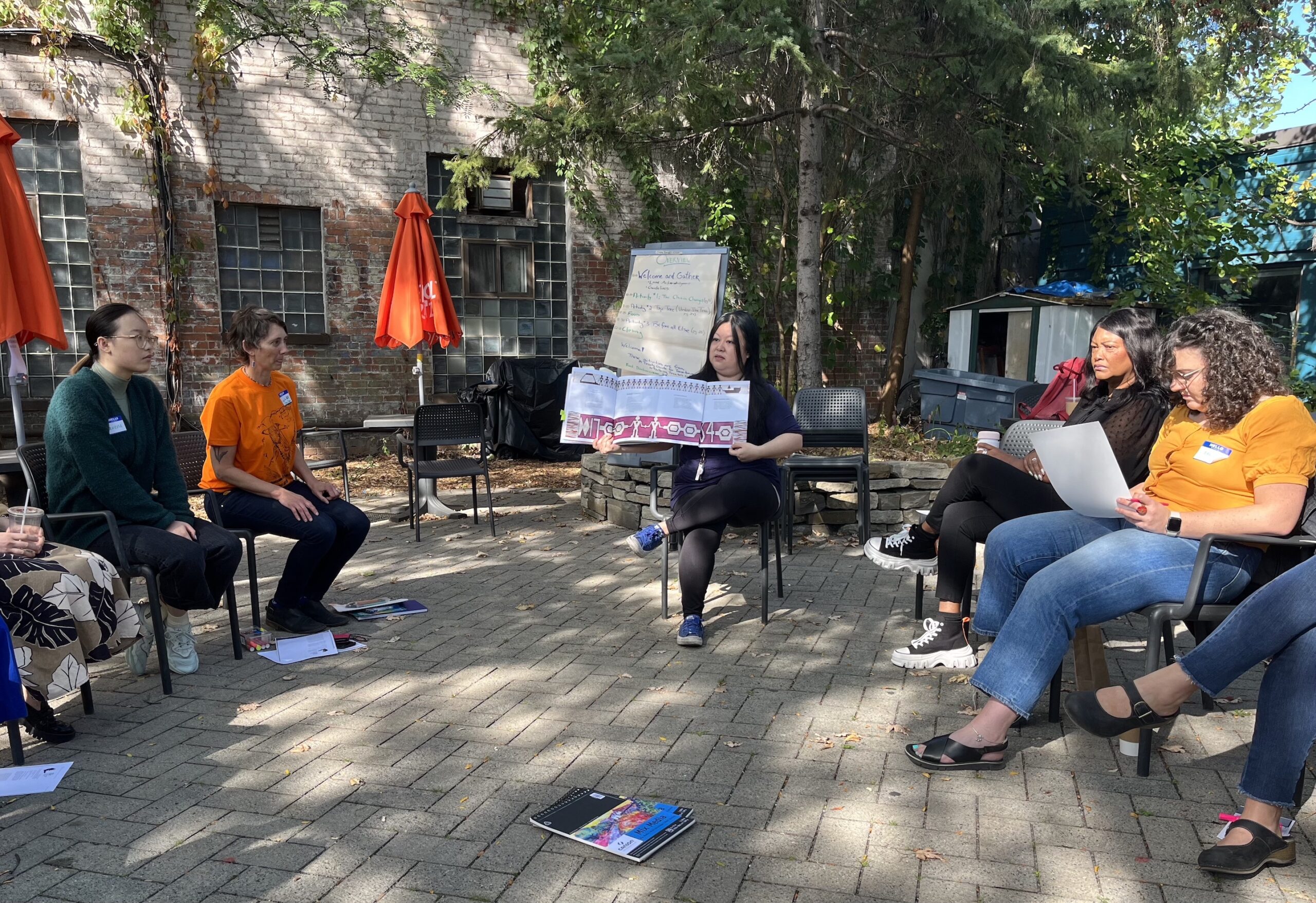 The House recognizes that meaningful engagement with Indigenous communities and education are an essential part of the path towards truth and reconciliation all year round.
---
Help neighbours live independently by becoming a Meals on Wheels volunteer.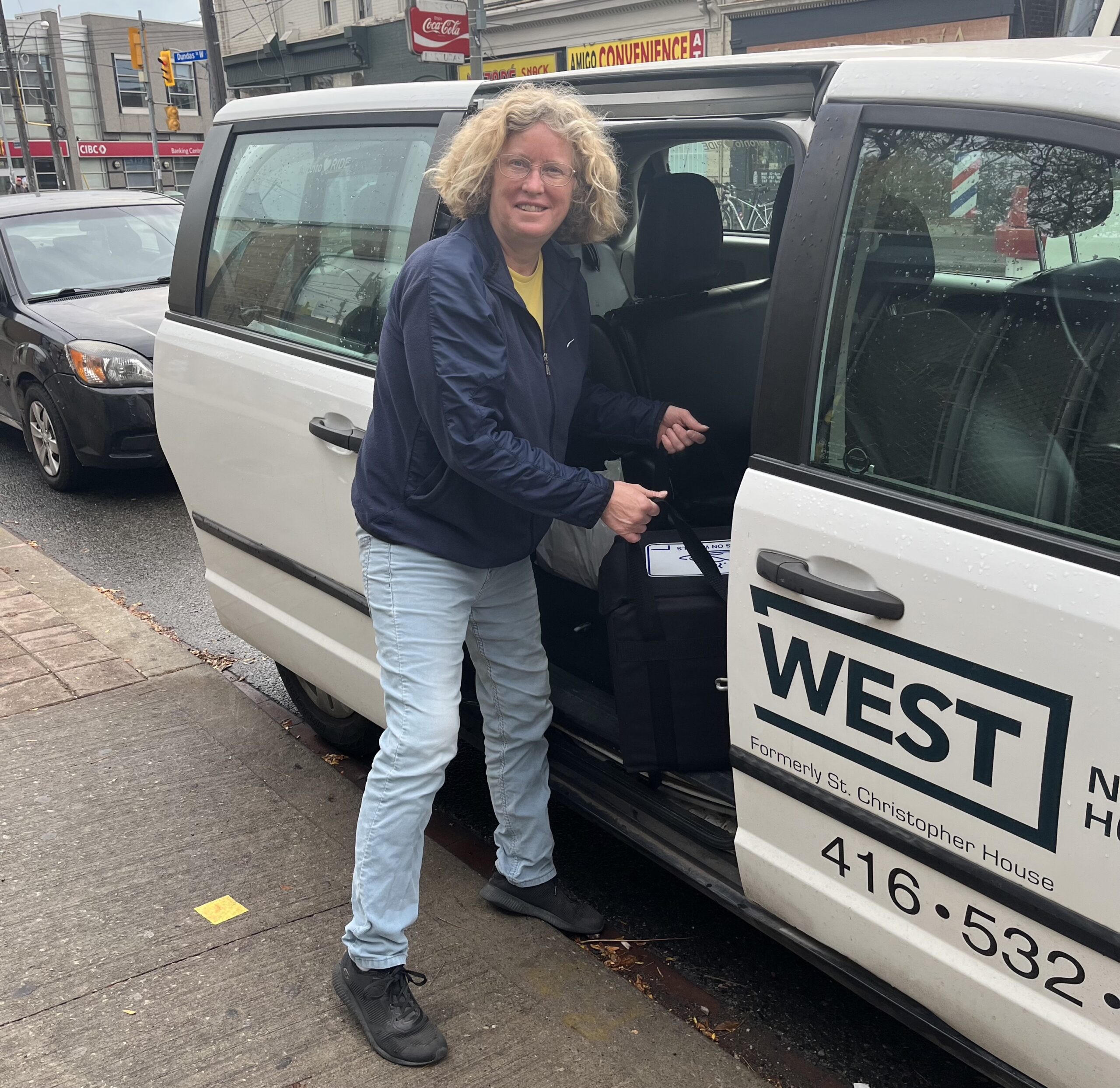 The Meals on Wheels program at West Neighbourhood House delivers healthy meals to clients in the community, including seniors and those with disabilities and other challenges.
For those living alone or isolated, Meals on Wheels provides an alternative to institutional care. West Neighbourhood House delivers over 100 meals daily, six days a week, to members of the community, allowing them to remain in their homes.
We are looking for runners to help deliver meals, as well as provide a safety check to ensure the well-being of community members. The runner is not required to provide their own vehicle.
If you interested in becoming a runner for Meals on Wheels, please contact the volunteer developer at volunteers@westnh.org  or call 416-532-4828, Ext 105. You can also find more information on the volunteer page.
---
Stay in Touch!
There's one more great — and totally free! — way you can help strengthen our community: Forward this email to someone you know who might be interested in the work of the House. Anyone can sign up to receive our emails by visiting westnh.org/newsletter!
And, don't forget to follow us on Facebook, Instagram and Twitter.