Greetings friends and neighbours,
It's been a season of change and reflection at the House. In June, our organization held its Annual General Meeting, the first with people in attendance since the pandemic began in 2020.
It was an opportunity to celebrate and give thanks to everyone who made this past year a success. As we look ahead, we also take time to reflect on how far we have come as a community and our values and strengths as we move forward together.
The House has also held several community events around Earth Day, Pride Month, Indigenous People's History Month, Do West Fest and the recent Toronto mayoral by-election, reconnecting with many members of the community, while making new connections as well.
We believe that by bringing people together, we can build a safe, healthy and more accepting society for all. Read below to learn about what's been happening at the House.
Looking back at a successful year of enabling personal and social change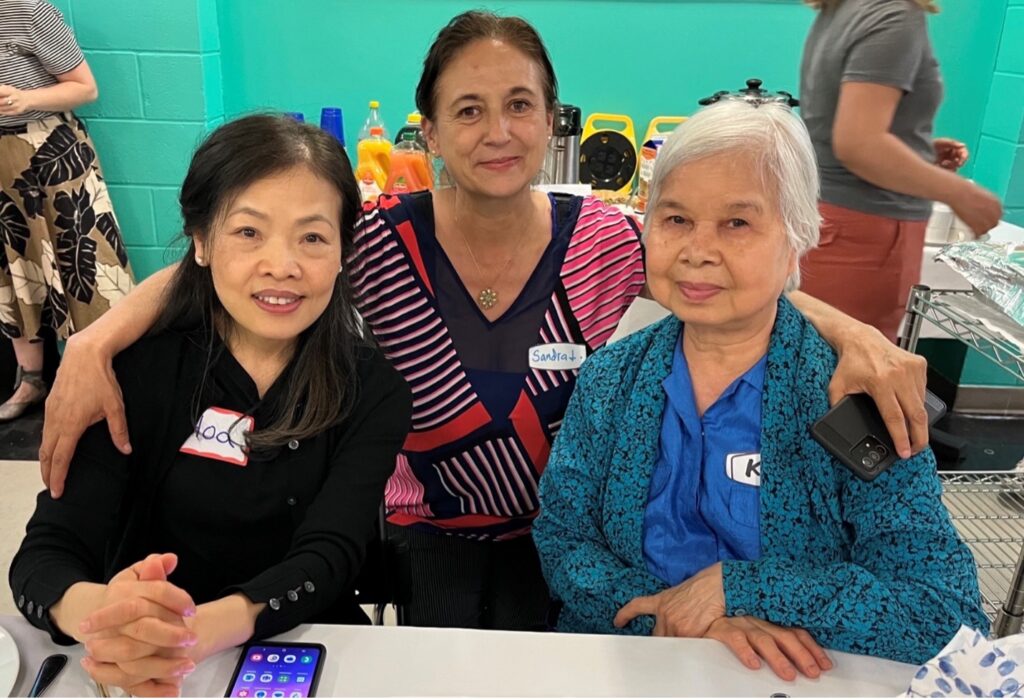 At the Annual General Meeting in June, we acknowledged the contribution of every individual whose hard work and dedication enables us to support the communities where we live, work and raise our families, and affect personal and social change.
The event was attended in person by staff, Board members, volunteers, program participants, and donors at our 248 Ossington location, and others attending remotely.
We honoured Emily Paradis who ended her term as volunteer President of the Board of Directors. Her compassion, expertise and leadership skills enabled our organization to navigate through the pandemic. We are very happy that Emily will remain on the Board. We also welcomed Prasad Rao as the new Board president.
The Annual General Meeting was also an opportunity to highlight a community member who distinguished themselves through community development. Tenzin Chime, commonly known as Tsomo, is the recipient of the Sir James Woods Award, an award given out every year by the House to recognize and honour a community member's contributions to their community.
Through Tsomo's volunteer work with Tibetan seniors, and her work with the Tibetan Women's Association of Ontario (TWAO), Tsomo has designed and delivered social programs and workshops for Tibetan women, seniors, and youth to promote collective care and gender equity in the community.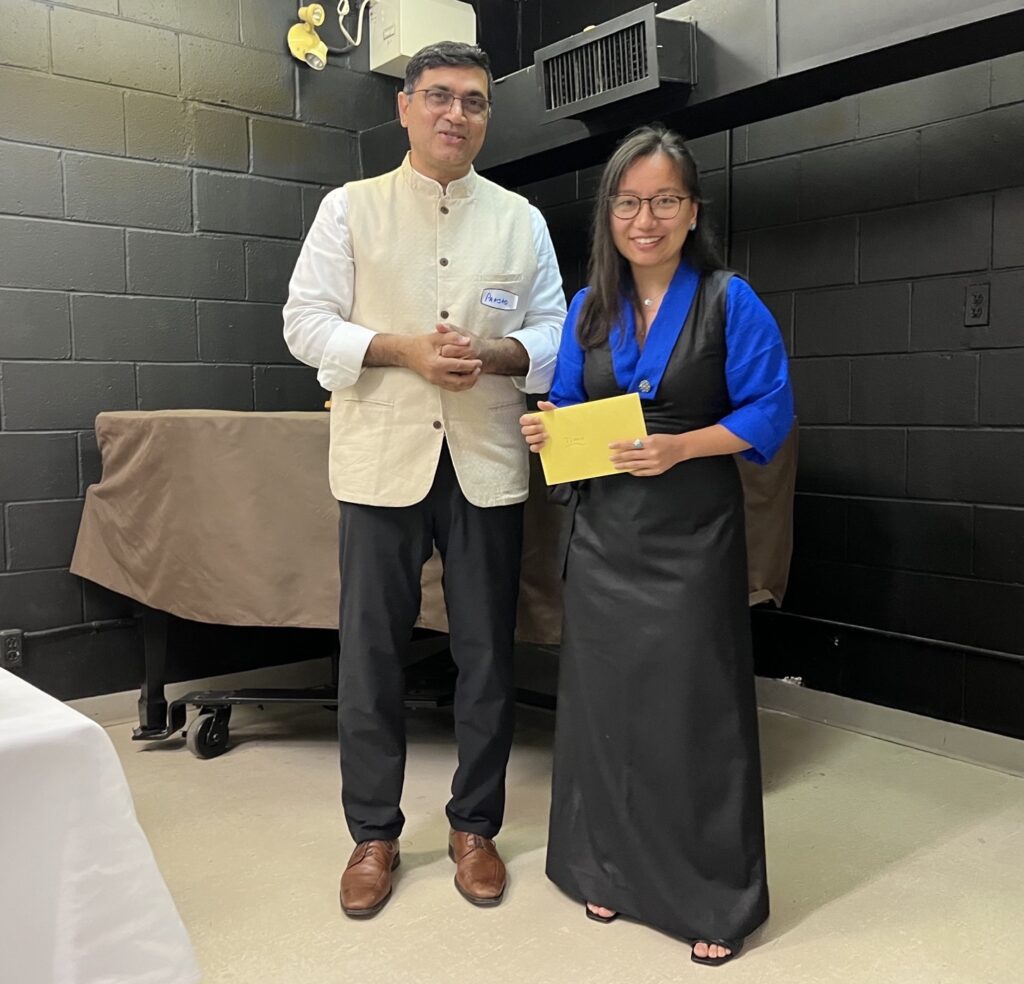 She has also supported numerous campaigns and collective action to raise awareness of the ongoing transnational struggle against the Chinese colonial occupation of Tibet. Tsomo has truly earned this distinction and we applaud her commitment to her community.
The work of West Neighbourhood House is made possible through the support of our long-time and new supporters, neighbours, program participants, partners, businesses, and staff. Thank you for helping our community flourish and making this past year a success.
If you would like to know more, please read our 2022-2023 Annual Report.
Working together to welcome new neighbours in Parkdale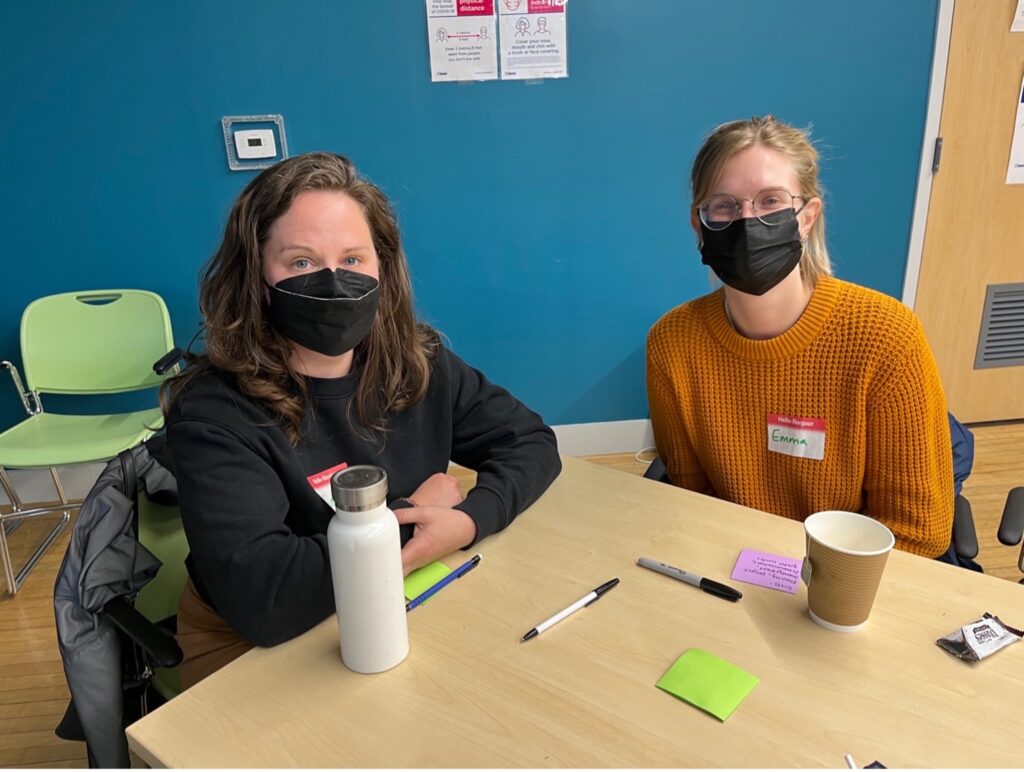 The Parkdale Planning Table, with support from West Neighbourhood House, is inviting Parkdale residents to join us in welcoming the future tenants of 150 Dunn Avenue, the first social medicine housing project in Canada. Find out more at www.westnh.org/150dunn
The housing crisis in Toronto impacts all of us differently.  Some Torontonians are more deeply affected, due to experiencing housing challenges along with chronic, complex health conditions.  The supportive housing project at 150 Dunn is part of a Social Medicine pilot initiative.
Social Medicine represents a new model for housing that integrates affordable, accessible housing with health services and other supports. This pilot project will bring 51 new, single units into Toronto's Parkdale neighbourhood.  Construction is expected to be completed by the end of 2023.
On behalf of the Parkdale Planning Table, we have partnered with the United Way of Greater Toronto and the University Health Network to support local residents in providing welcoming activities for our future new neighbours at 150 Dunn, as they settle and re-integrate into the community. The Welcome Committee are a group of volunteers from the community who are working together by meeting every month to plan community engagement activities.
The committee is also helping to host a series of Community Learning Circles, which  have been held over the summer. Please come out to learn about the new housing model and other issues important to the community in Parkdale. Registration is required on EventBrite.
Parkdale has a long-standing tradition of welcoming new neighbours and is proud to be a place for growing families, essential workers, immigrants, and others seeking a place to call home. We are championing projects like this that bring more affordable housing to Parkdale and enrich the many existing supports and successful systems of care in the community.
Social medicine housing at 150 Dunn not only continues caring traditions, but it is also a demonstration of how our community can work together to solve the housing crisis by welcoming innovative, affordable solutions.
To directly reach the Committee, email welcome150dunn@gmail.com or connect on Facebook.
For more updates about the project at 150 Dunn, including changes to the construction site and the announcement of the housing provider, visit the City of Toronto website page.
Art brings people together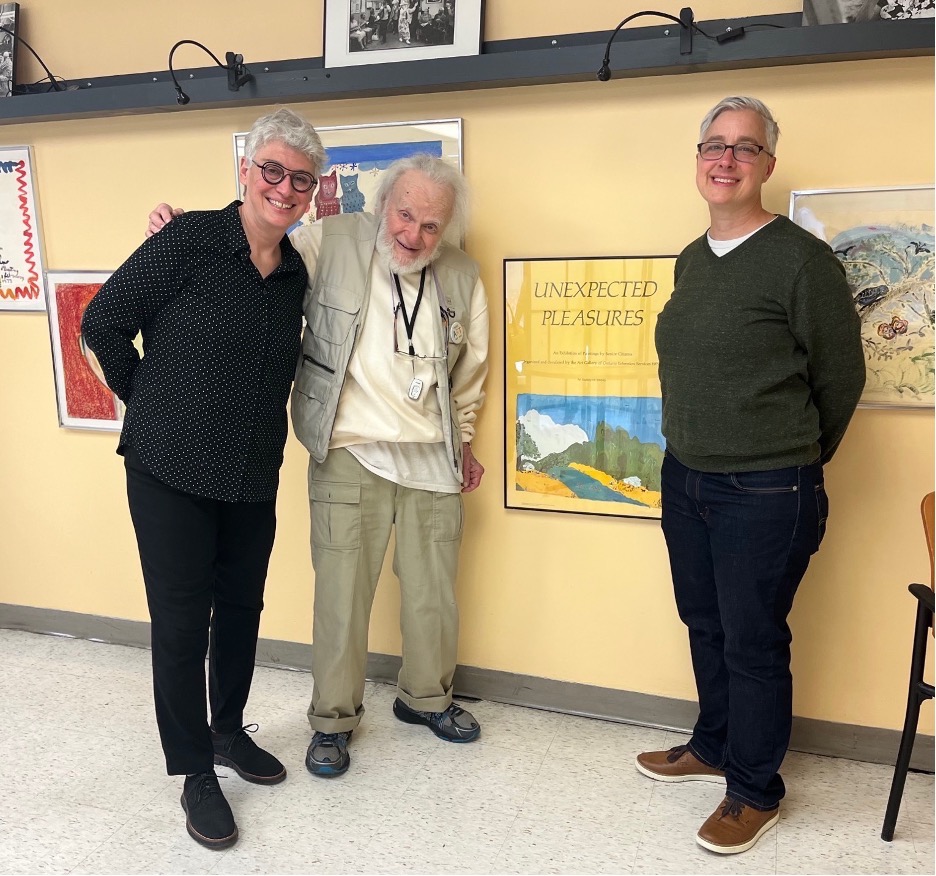 The House was proud to welcome back an honoured guest in May. Herschel Stroyman was the past facilitator of an 'art as therapy' program which encouraged seniors to be creative artistically, while engaging with one another.
The event showcased paintings created in the 1970s and 80s at the House, which toured around Ontario at the time as part of the exhibition "Unexpected Pleasures," organized by the Art Gallery of Ontario.  It was so successful that they did it a second time.
Recently, Executive Director Maureen Fair re-assembled the paintings from different locations and displayed them to the public at a community event at our 248 Ossington Avenue location, with Stroyman in attendance.
"The paintings reflected the lives of its participants. The seniors often came from different backgrounds and spoke different languages, but they were always able to connect with one another through their art," Stroyman says.
Art as therapy is known to be beneficial for older adults and those with health challenges, encouraging participants to express their thoughts and emotions through the creative process and alleviating stress.
The paintings will continue to be displayed at our 248 Ossington location. For more information about Herschel Stroyman and his work, please visit his personal website.
Help newcomers by becoming an English-language tutor!
West Neighbourhood House is looking for a volunteer to teach English language skills to new immigrants and refugees.
The Immigration and Refugee Services Program (IRSP) program organizes English Conversation Groups, which help newcomers develop language skills, improve civic engagement opportunities and employment prospects.
As part of the position, volunteers will be matched up with a newcomer to provide one-to-one support or in small groups. Volunteers will also provide information to newcomers about different topics including health, settlement services, transportation, job search, education, and more.
The candidate must have some knowledge and experience in ESL and adult learning. Training and guidance will be provided throughout the duration of their time.  We are asking for a commitment of 2 hours a week, and 9 months to a year to ensure continuity.
If the position interests you, please contact our Volunteer Developer at volunteers@westnh.org or call 416-532-4828, ext. 105. Read the full volunteer description here.
Stay in Touch!
There's one more great — and totally free! — way you can help strengthen our community:  Forward this email to someone you know who might be interested in the work of the House. Anyone can sign up to receive our emails by visiting westnh.org/newsletter!
To get involved, please visit our volunteer opportunities page on our website or contact the Volunteer Developer at volunteers@westnh.org. Meals on Wheels is currently looking to recruit Drivers, Runners and Cyclists.
And, don't forget to follow us on Facebook, Instagram and Twitter.