The Winter 2020 House to House has arrived! Click here to read the full newsletter.
The Meeting Place, our drop-in program, provides basic needs, social support, and a welcoming, nonjudgmental space for some of the most marginalized people in our city. Many of our members are living with poverty, homelessness or poor housing, and complex health challenges, physical or mental.
Sadly, these can be life-threatening.Staff say on average, one Meeting Place member dies every other month. But lately that rate has accelerated. The program is now seeing deaths nearly every month, something multiple — from illness, overdose, and occasionally even violence or, as happened this past November, cold exposure.
We're not alone in this loss. Deaths of people experiencing homelessness are growing across Toronto. But for those at The Meeting Place, this problem isn't about numbers: It's personal.
Complicated feelings arise when a member dies. Too often, the cause is preventable and the person is relatively young. Despite that, the community jumps into action after a death.
Meeting Place members are often cut off from friends, family and traditional sources of news. So the custom of "In memoriam" posters arose to communicate when someone has died and to announce a memorial for them.
Even if a formal funeral is being held for the person, it may not be practical or comfortable for their friends from The Meeting Place to attend. So the drop-in hosts a celebration of life ceremony. It might include storytelling, music, silence, and, if it's in the person's faith tradition, prayer. Sometimes it's quiet and solemn, other times boisterous. If the person was Indigenous, an elder leads the ceremony. The community as a whole has adopted the custom, common in many Indigenous groups, of the post-funeral feast.
The really hard work starts after the memorial. Grief is different for everyone, and that's especially true of people who are marginalized or have experienced trauma. It might seem like someone is not grieving very much or for very long. In reality, says Meeting Place program worker Kamran, they haven't had the space or the tools to process their emotions.
"If you're on the street … you are constantly in survival mode," says Kamran. "Grief takes energy and resources."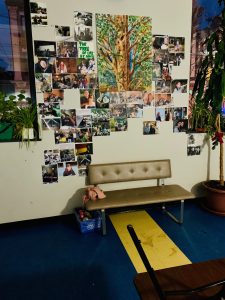 Staff member Lindiwe helps members of The Meeting Place women's group process grief and loss using tools like artistic expression, group discussions and meditation.
"Not just the current death, but losses from the past," come up in these sessions, she says. "In the women's group, they can get support from peers. We open up the space for them to talk freely and listen."
Maddy, a longtime Meeting Place member, says she's lost track of how many memorials she has attended.
"I can't count them on all my toes and my fingers," she says. "It hurts."
But the community at The Meeting Place helps her cope. "We can sit together at our table and have our cup of tea and cry."