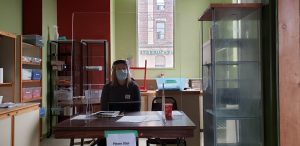 Life at the House during COVID-19
We're doing our part to slow the spread of coronavirus while still taking care of the people in our neighbourhood who need us most.
With the exception of a few essential services, all group activities and in-person meetings are cancelled.
Visit this page for details of our re-opening. This will take place gradually and start with services for those most in need.
For the time being, all our locations are closed to the public except the drop-in at 588 Queen St. W.
Our in-person programs are doing more cleaning and sanitizing of surfaces and spaces. We're screening all participants, staff, and people entering our buildings.
These essential services are being delivered in person:
Meals on Wheels
Home Support (in-home PSW care)
Home at Last (transition from hospital to home)
Supportive housing at West Lodge
The Meeting Place (for homeless members only)
After-school programs and summer camps (as of Aug. 2020)
Other programs are providing services remotely and by phone. Call us for information and new referrals at (416) 532-4828 or email info@westnh.org