Help us move forward by giving to the annual appeal.
In 2021 we supported people when they needed it most – we couldn't have done it without you! The COVID19 pandemic isn't over yet. We humbly and gratefully ask for your support. No matter the amount, we appreciate every contribution. Together, we can help our community flourish.
You can support us by using this form or visiting westnh.org/donate. 
Another (totally free!) way to help is by sharing this post on social media and making sure you and everyone you know is signed up to receive our newsletter at westnh.org/newsletter.
Please take a moment to read these words from our Board president, Emily Paradis.
---
Dear Friends,
I hope this festive season provides an opportunity for you and your loved ones to rest, reflect, and recharge as we reach the end of another year in this ever-changing pandemic journey.
Over the course of the pandemic, each of us has been challenged to find new ways to care for ourselves and our communities.  I am proud to say that the West Neighbourhood House family has risen to new challenges by continuously innovating and reshaping its programs to meet our community's changing needs and aspirations.  This family includes all our program participants, our dedicated House staff and it also includes you, our valued donors.  Today I'm asking you to renew your support to the thousands of people and families the House works with every year.
While we may be emerging from physical safety restrictions of the past 18 months, the pandemic is leaving behind long-term problems, losses, and transitions.  It is also exposing glaring inequities in our community.  At both a policy and programming level, the House works tirelessly to address issues including homelessness as well as income, job, and housing insecurity.  These inequities have taken physical tolls and affected the mental well-being of many in our neighbourhood.

Connecting, learning, and sharing helped newcomer youth participants grow and withstand pandemic isolation.
I'd like you to meet Rob.
20 years ago as a young up-and-coming marketing talent, who stood first in his McMaster University Commerce class, Rob was diagnosed with a rare, exceedingly aggressive form of multiple sclerosis, for which there is no treatment.  He then embarked on what his sister Heather calls a "journey of loss": loss of mobility, independence, control, relationships.  Loss of choice.
Despite some low times, Rob's natural optimism and positivity prevailed.  Until the pandemic hit. Rob experienced the harsh realities of social isolation during the lockdown.
Enter the House's Adult Day Program.
Through Meals on Wheels, the House was already an important part of Rob's life.  His family turned to the Adult Day Program looking for the mental stimulation Rob was craving.  "It's been a total game changer", says Heather.
Three mornings a week, the ADP team of Olivia and Cleone visit Rob to engage him in a variety of activities tailored specifically to his interests – reading, going for walks, playing Scrabble and listening to music.  "He's having fun again and so looks forward to these visits", says Heather.  "I can't tell you how important West has been to us."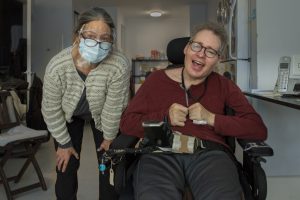 Rob and Cleone. Being involved in the House "is a total game changer", says Robs sister.
Thanks to your support, variations of Rob's story happen every single day at the House. Whether staff, participants and volunteers are working with individuals, or in groups or on a community issue – together they find joy, meaning, and strength.
I hope we can count on your support again this year.  Together we will continue to build a strong, resilient, inclusive community, working alongside the most vulnerable in our neighbourhood. Please give as generously as you can. Consider becoming a monthly donor – it's easy, convenient and provides the House with a vital source of regular support to continue serving our community. You can give online at westnh.org/donate.
Stay safe, mask up, and as always, thank you.
Emily Paradis,
President, West Neighbourhood House Board of Directors
Our impact
COVID-19 Assistance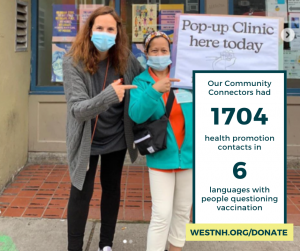 Quality care for vulnerable seniors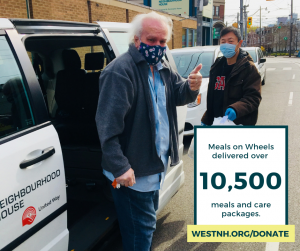 Support for personal and social change